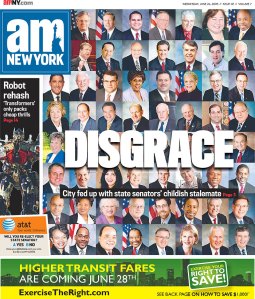 Michael Bloomberg invites someone to City Hall, on Twitter.
The Senate chaos makes Bill Cunningham sad.
Readers digest George Maziarz's comment about Democrats not standing up for the Pledge of Allegiance.
Alan Van Capelle now says he doesn't want a vote on same-sex marriage unless it has enough support to pass.
Maybe binding arbitration would settle things.
Anthony Seminerio admits to doing something bad.
A poll says that Carolyn Maloney has a slight edge, among voters who have a preference, over Kirsten Gillibrand.
Both would trounce Peter King.
Still, half the voters are undecided about the race.
The head of Emily's List said, "Maloney has a lot of good work to do that she could get accomplished in the House."
Eric Kleefeld said Maloney is "highly likely" to run.
Rush Limbaugh does Jonathan Tasini the favor of attacking him.
The National Journal said Paterson's effort to capitalize on the populist anger at the Senate could be "moot" if Andrew Cuomo runs.
Bloomberg hung out (and, BREAKING!, filmed a commercial) in Astoria.
This dancer did a quick interview on his cell phone right before getting an award from Bloomberg.
Our Town looks at the housing policies of the mayoral candidates.
Len Levitt explains the subtle rivalry between Ray Kelly and Bill Bratton.
Jay Gallagher has surgery tomorrow.
Michael Calderone explains why the media is not well liked.
Mark Sanford returned to the public eye today, and promptly began disappearing online.
And Albany senators get perp treatment on the front of AMNew York.