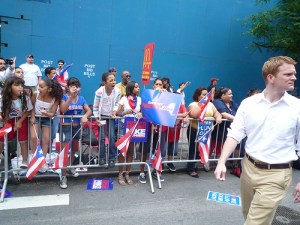 Congressional Quarterly says Kirsten Gillibrand's endorsement by teachers today was big news.
On challenging incumbents, Carolyn Maloney's adviser Joe Trippi said Barack Obama's people "started this. They took on the established order of the party. If they had listened to the establishment, Obama wouldn't be in the White House."
Jay Cost says Obama can't stop Maloney or other "renegades" from challenging incumbents because "individual candidates stand largely on their own."
Albany, still a zoo.
Despite Tom Suozzi's tough talk now, Bill Murphy says, he "never did Fix Albany."
Yoda notes an important inconsistency in the Monserrate-Espada saga.
The City Council voted 37 to 10 to raise the sales tax. Peter Vallone Jr. abstained.
"So, you're the guy who hates the Kings County Democratic Party," Vito Lopez tells a Brooklyn-based blogger.
How much of Sheldon Silver's mayoral-control bill does Randi Weingarten support?
The Independence Party is staying out of Inez Barron Mathieu Eugene's reelection race, and Rock Hackshaw is not happy.
Jen Chung tries explaining who's in charge in Albany.
Readers take umbrage at Tom Golisano's description of Monserrate and Espada.
City Room looks at the economic downturn and crime in the city.
Barack Obama gets an earful from gay groups.
Carolyn Maloney grabbed her domain name on Facebook.
Bloomberg spokesman Stu Loeser grabbed his domain name, too.
Governor Paterson has his own Facebook URL.
This is not what I expected to see at www.facebook.com/MichaelBloomberg.
Someone grabbed Eliot Spitzer's Facebook name.
The U.S. Conference of Mayors passed a resolution in support of same-sex marriage.
This blogger wonders what, if anything, Monserrate's un-defection means for same-sex marriage.
This guy on Twitter wants to hear less about Bloomberg's endorsements and more about Bloomberg policies.
Barry Grey thinks The Times' coverage of the Iranian elections is shoddy.
My aunt, who is from Iran, recommends this blog item about the elections there.
Charles Hynes has some kind words for John Sampson, his 2005 opponent.
Gillibrand and her prospective challenger Maloney shared a float at the parade.
Spencer Tucker gets artistic with Bloomberg and Ruben Diaz, Jr.
Roger Stone will be on New York 1 tonight at 7 p.m.
Letitia James yelled "courage" after John Liu voted to raise the sales tax.
Steve Kornacki will be on CNN tonight at about 8:30.
And pictured above are some campaign signs at yesterday's Puerto Rican Day parade.