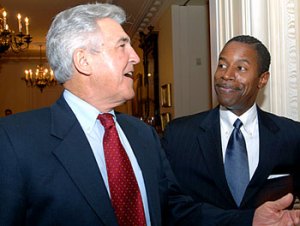 Barack Obama is coming back to New York City.
Hillary Clinton doesn't want the photos depicting torture released.
Michael Wolff writes, "You can hardly find a purer example than Michael Bloomberg of a politician who bought his job." And, "[W]e can blame him for everything that has gone wrong, but not have to worry about replacing him. Like a king, sort of."
Huffington Post is also carrying Wolff's column.
Michael Tomasky says, "There'll be some corruption scandal and in 2013 he'll be at 43% and trying to scratch out a fourth term. I guarantee it."
Zack Woolfe thinks that Bloomberg may be too tall to be mayor, in the Breslin-Lindsay way.
Michael Goldfarb is not impressed with The New York Times poll on Michael Bloomberg.
City Hall News wants Bloomberg to answer some questions, including: "Why does his logic for busting spending records to promote candidacy keep changing with each election, from 2001 to 2005 to now?"
A poll Doug Schoen did for Carolyn Maloney says Kirsten Gillibrand is vulnerable if attacked on her work for tobacco companies.
Schoen's poll gets picked up by Pollster.com.
Gail Robinson has a roundup of reactions from the Senate coup.
This blogger thinks and hopes this could launch a coup trend nationwide.
Peter Feld sees the humor-irony in the coup storyline.
Notable: Tom Golisano was responsible not only for the Republican coup, but also, in part, for the Democratic takeover that preceded it.
Nate Silver thinks same-sex marriage legislation can still pass the State Senate.
Towleroad also thinks it could happen, since Pedro Espada Jr. said something voting on the marriage legislation. "There will be no guarantees and no quid pro quos," he said.
Rahm Emanuel might be the Obama administration's secret dove.
Michael Crowley finds the "poor schmo" who has to move the Guantanamo detainees.
Silvio Berlusconi's party didn't do as well as expected in the European Parliament elections, suggesting that Italians may not have a bottomless stomach for sex scandals after all.
Donald Rumsfeld is a villain for the Fast Food Nation crowd, too.
Jeffrey Goldberg thinks that the fear of Iran shared by Israelis and Sunnis could provide a new and more solid foundation for a peace process.
The teaser for this story (hardcopy only) is "Jeff Klein explains what is going on in Albany."
Frank MacKay wants Darrel Aubertine to run for Congress.
Before the coup, Pedro Espada sought $2 million in earmarks for local nonprofit groups he's associated with, according to unnamed sources.
It's not entirely clear what Joel Klein means to say here.
Matt Cooper lands at the Atlantic.
And pictured above are two guys who used to be in charge in Albany.