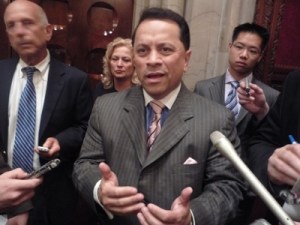 ALBANY—The charges against him are selectively pursued, State Senator Pedro Espada Jr. insisted.
The Daily News reported this morning that Bronx District Attorney Robert Johnson has subpoenaed his legislative records dating back to 1993. Last night, Espada's press aide put out an announcement confirming the investigation, and vowing he would file a complaint with State Inspector General Joseph Fisch for "prosecutorial misconduct and selective prosecution."
"In 2000, it took a Bronx jury all of 15 minutes of deliberation, without me even producing a single witness, to throw out Mr. Johnson's case because the jury said the allegations we re transparently politically motivated," Espada said in his statement.    "Could it be that Mr. Johnson is doing the political dirty work of the Democratic Party all over again, this time for Malcolm Smith and others in the Senate who couldn't win in an Albany court?"
Espada, of course, has angered lots of Democrats by siding with Republicans in an ongoing leadership struggle in the State Senate.
I called Kate Gurnett, a spokeswoman for Fisch, who said flatly: "We don't have jurisdiction over elected district attorneys under state executive law."
So much for that idea. In recent weeks, with his rise to prominence, Espada hasn't rebutted any of the charges against him, focusing instead on his record of public service and the fact that his constituents have elected him.