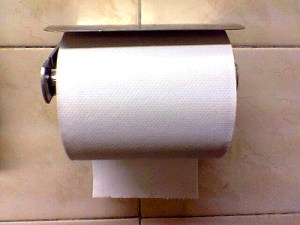 "They always say there's two things you can't mess with: people's paychecks and people's tushies."
That's Jeremy Benkin, CB Richard Ellis' national director of procurement for the asset services division, speaking by phone from Memphis, Tenn.
Why take up Mr. Benkin's precious time asking pesky questions about bathroom tissue? Well, his colleague Sally Wilson, CBRE's global environmental strategist, majorly piqued our interest when, at a recent Urban Land Institute conference covered by the Washington Business Journal, she said, "We buy more toilet paper than anybody in the United States."
"When I saw that one come across my newsfeed, I said, 'Oh boy,'" Mr. Benkin laughed. "We are technically the largest business-to-business purchaser, though certainly I don't pretend we buy more than Walmart does to re-sell. But as the end consumer, I am very proud to say we're the big guy."
Who knew?
You see, CB Richard Ellis manages 2.2 billion square feet of office space worldwide. That means that guys like Mr. Benkin, who manages procurement for about 675 million of those square feet, are in charge of negotiating contracts for everything from landscaping services to pest control to, well, toilet paper purchases. So how many rolls of toilet paper does CBRE buy every year? That number is sort of tricky to determine. Where the average toilet user might see the issue through the prism of single ply or double, Mr. Benkin sees it in terms of "cases of paper products."
CBRE buys about 2.268 million cases of paper products a year. If one were to fill such a case with only toilet paper, about 80 rolls would fit inside. But, these cases are typically filled half with toilet paper and half with paper towels. Do some number-crunching, and CBRE buys roughly (and these are definitely just approximations) 90 million rolls of toilet paper a year. About 90 percent of it comes from Kimberly Clark and Georgia Pacific. As you might imagine, CB Richard Ellis has some sway over the manufacturers.