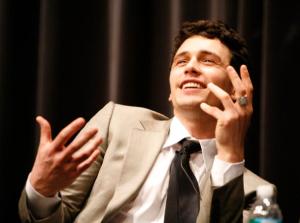 A few weeks ago, longtime Harper's editor Lewis Lapham's newish literary magazine Lapham's Quarterly invited its friends and subscribers to the Hungarian Culture Club in Soho on Wednesday, June 24, for a reading by the poet Frank Bidart and the actor James Franco from the magazine's new Travel issue. The appointed hour was sometime between 6 and 9 p.m. But after the event was featured in Page Six yesterday morning, and later picked up by Access Hollywood, Jeannie Vanasco, the Quarterly editor who had orchestrated the whole thing, grew a little nervous and began advising guests to come at 6:30 so as to make sure to squeeze in before the room reached capacity. And more importantly, before her calculation of "one bottle of wine per person" proved to be no longer correct.
At 6:30 p.m., however, the fifth floor of the spacious Soho building was barely a quarter full, mostly with a young bunch of attractive, well-dressed guests.
Mr. Lapham, sipping a glass of that rationed red wine, looked delighted. Looking down through his round, tortoise-shell spectacles, he told the Daily Transom that he had never met Mr. Franco before, but was excited to do so this evening.
"I've seen him in minor things like City by the Sea, which is a movie I really liked but I don't know why, and I still can't remember what part Franco played but I'm sure it was good," Mr. Lapham said.
And even though his younger editors have told him about Freaks and Geeks, he had never seen that, either.
"That's television, right?" he asked. "Television is out of my league."
Still, Mr. Lapham said he was quite impressed with the actor's literary ventures.
"Not only is he an actor, but he's a writer," said Mr. Lapham. "He's got a book of short stories coming in the spring called Palo Alto and he likes the Quarterly, Jeannie tells me. So I'm delighted to know him."
The Quarterly editor then confessed that there was a time when he had planned to become an actor, but after a few plays while at Cambridge in England—The School for Scandal, All The King's Men-—he realized that he wasn't any good at it.
"A lot of the kids at Cambridge were going to become professional actors. They were serious and they could do anything, any part, any character," he said. "And I was only capable of doing characters to whom I was sympathetic, which is a whole different thing."
As the room began to fill, there was talk of eager Franco-philes being rejected at the door downstairs so as to make sure all the RSVP'd guests would be able to get in later. But by 8 p.m., the room was still not at capacity and neither of the readers appeared to be present. Around the room, writer-lawyer Elizabeth Wurtzel began to check the time; Accompanied Literary Society's Brooke Geahan was glancing around, looking for a sign of the curly-haired actor; Mr. Lapham was shifting on his feet. Some people started to leave.
By 8:30 nothing had changed. Ms. Vanasco, who said she had confirmed everything just 12 hours prior, began to frantically work her phone and email. What if Mr. Franco were to ditch this like he did that UCLA graduation? guests had begun to whisper.
But at 8:45, Mr. Franco finally arrived, seeming a little confused and disheveled in slim, dark blue Levi's, a hunter's sweater, and black boots.
"Thank you for being so patient," is how Mr. Lapham introduced him. He then informed the audience about Mr. Franco's enrollment at the M.F.A. program at Columbia, his collection of short stories to be published by Scribner in the fall, and his outstanding role as "the leading pothead on the television series Freaks and Geeks," which he had never seen, but heard about. The audience whooped and cheered.
"This is an oldie, but it's pretty good," said Mr. Franco as he began to read to some Herman Melville. "Call me Ishmael!"
The readers alternated. Mr. Bidart read Beryl Markham and Isak Dinesen. Mr. Franco concluded the program with a passage from Don Quixote. Leaning on one leg and holding a copy of the Quarterly with both hands, he had a theatrical inflection.
"Anyone tired of standing?" he asked at one point. "This is a little long. I don't have to read it."
But the audience objected: "No, read it, read it!"
"They initially suggested I read an Elizabeth Bishop poem," Mr. Franco told the Daily Transom after the reading was over. "But sometimes I find that I've been to readings before where they alternate poetry and sometimes it's hard for poetry to land on an audience when fiction is being read because, it's like, stories are being told and poetry demands something else from an audience."
How did he prepare?
"I do a fair amount of readings. So I usually don't get that nervous anymore unless it's my own stuff," he said. "It's a different thing from acting because you're the narrator, it's not just playing one part. With the Don Quixote piece, I play the narrator and two characters."
Mr. Franco was repeatedly interrupted by guests, mostly women, coming over to say hello, even though it was now nearly 10 p.m.
"I listen to a lot of audio books and I feel like I like it best when it's not a full, immersed performance, it's more like a storyteller talking to you," continued Mr. Franco, who, as it turns out, is a close talker. "It's not a full emergence but just a slight shift and a changing of the voice. So that's my excuse for not full characterization!"
The actor looked a bit worn out, but politely submitted to each young woman that approached. At 10 p.m. there was still plenty of wine.