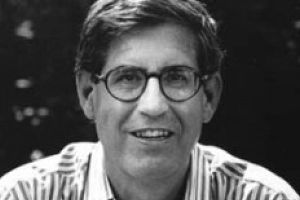 Grove editor Jofie Ferrari-Adler's Poets & Writers interviews with editors and agents are pretty much always essential reading, but this month's sit-down with Farrar, Straus and Giroux publisher Jonathan Galassi might be a cut above. There's not a word that's not worth reading, but here are some highlights:
On learning how to edit:
"I think you learn it by watching how the people around you work with authors, and it happens almost by osmosis. There are many different styles of editing, too. It's an apprenticeship. There are courses you can take to learn the mechanics of the business, like the Radcliffe course, but I don't think they teach you how to edit. Editing is more by-the-hip. You look at a text and ask yourself how it can be improved. One thing I have noticed is that when you're a younger editor, you're more intense about it. As you go along, you relax a little. More and more, I feel that the book is the author's. You give the author your thoughts and it's up to him or her to decide what to do."
On Bob Gottlieb, former editor in chief of Knopf and, later, The New Yorker:
"I actually think that when Bob left publishing, to go to the New Yorker, everything changed in my business. Bob was such a dominant figure in literary publishing that he kind of controlled prices. A lot of people would go to him to be published without auctions because they wanted to be with him. He sort of set the prices in the sense that he wouldn't participate in auctions. It wasn't that he was unfair—he was fair and generous. But he was reasonable. When he left, that was over. Auctions became much more a part of how most books were sold, and the prices went up, and the whole game became more about money. This was in the mid-eighties, and it was a watershed moment in publishing."
On the difference between Knopf and FSG when Mr. Galassi first joined FSG in 1986:
"[FSG] was a very personality-filled company with a lot of smart people who were very dedicated. But they never took themselves too seriously. That's one thing I've always loved about FSG. With Knopf I always felt that there was a snootiness—they would look down their noses. That was never true at FSG. It was scrappy; it was irreverent. I mean, they took literature extremely seriously, but they never took themselves seriously. It was a very good-natured place where people wished each other well. I think people felt like they were doing something good. The pay was terrible, and the conditions were terrible, but everybody knew why they were there. And we all felt like it was a privilege to work there."
On his competition today:
"I feel very competitive with Knopf. But I feel competitive—and when I say 'competitive' I also mean that I feel collegial—with people all over. You and Morgan [Entrekin]. New Directions, who I love. Penguin Press, both in America and in the UK, is a really fabulous publishing house. I think Cape is great. I think Chatto is great. … I guess we still think of Knopf as the big giant. We're the we-try-harder. But we're not really like Knopf. We're different. We're smaller. But I think they do a really good job with a lot of great books. … We're smaller, and that means we can give more attention to each project. We have a very good publishing team. Jeff Seroy is a brilliant publicity and marketing guy. Spencer Lee, our sales guy, is terrific. And there's a cohesiveness to what we do."
On the fiction in The New Yorker today:
"When you look at the New Yorker, the voices are much less idiosyncratic than they used to be. It's being edited in a different way than it used to be. … They used to publish a lot of long pieces and it may have something to do with readers' attention spans being different. We published a very good book last year, the autobiography of the composer John Adams. The New Yorker ran a piece of it and the author told me that they tried to iron out the idiosyncrasies of his style. He gave them a fight. He was very bemused by why they would try to change his little quirks."
On what makes a good literary agent:
"I think that a really good agent should be able to get the right publisher, which the agent has already figured out, get as much money as she can from that publisher, and make a deal, rather than have the amount of money determine the sale. That's what the best agents do. They may solicit a lot of action, but they know where they want to place the author. They may use competition to jack up their preferred publisher as high as they will go, and there may be times when the differential is so big that they aren't going to be able to go with that target publisher, but I think that's the right way to do it: for the agent to work the process so that the author ends up with the right publisher paying as much as they comfortably can. There's an edge of commitment that makes the publisher feel they have to be alert, but they haven't gone beyond their zone of comfort for the book. … What I don't like is when an agent tries to interpose his or her body between you and the author—when the agent is proprietary and everything needs to be communicated through them and they don't want you to have your own relationship with the author. I find that very frustrating and alienating and counter to the idea I was just talking about where it's a collaboration between the agent and the publisher and the author. I think you're right in that over time the agent has become more important in the author's life, partly because authors move around more than they used to. But when you've worked with an author over many years, you do develop a really close relationship. The agent has his or her own relationship with the author, and a good agent wants you to be close with the author.
Check out the rest of the interview for Mr. Galassi's views on the future of publishing, the folly of large advances, and his view of FSG's role in the publishing world.