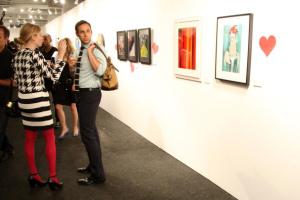 Although Gen Art's 15th Anniversary benefit on the spacious 11th floor of 7 West 34th Street was admittedly thrown as a last-ditch effort to save the floundering organization, the mood was hardly desperate!
First to arrive was lovely New Zealand native Rebecca Taylor, with father in tow. The designer was wearing one of her own creations, a blue jumpsuit—"It covers all your sins! You don't shave your legs—put on the jumpsuit!" It was Gen Art that gave Ms. Taylor her big break 10 years ago. "Although it was a long time ago, and it was a show of 10 looks, it was one of the nicest shows I've ever done. I like to support people who supported me."
Project Runway's Christian Siriano flew into the party with a posse of asymmetrically coiffed pals; also in attendance were Gossip Girl's Laura Breckenridge and Miss USA Kirsten Dalton, resplendent in turquoise and sporting a blinding smile. Erin Lucas, star of MTV's The City and daughter of AC/DC bassist Cliff Williams, showed off her brand-new AC/DC tattoo—"in honor of Father's Day." British rockers Your Vegas, fresh off of tour with Duran Duran, mingled in the closed-off VIP section. Why were they there? "It's a good place to be!" said one member of the band.
Meanwhile Alex and Simon McCord, stars of The Real Housewives of New York, could not be pried from the red carpet. This was their second event of the evening, having just dashed over from a City Opera shopping event. The couple talked and posed and talked some more, and seemed a little surprised to be asked about Gen Art. "Think about the artists who make paintings," Ms. McCord said. "Artists are often the ones who are living on the edge, and they need our support. Another thing, too, is that spending money in economic times, you want to feel that you are doing good for someone." The TV star went on to describe her newly renovated house, filled with artwork "bought at charity auctions" and "recycled furniture." Did Ms. McCord think Gen Art could reach its lofty goal of a quarter of a million dollars? "People really want to help. And I sometimes think that these tough times bring out the best in people. Well, the worst in some. But people really want to help."
Co-chair Zac Posen arrived later in the night, dapper in skinny jeans. After chatting about iPhones, the designer took a more serious tone, announcing that "it is important to support Gen Art, or anything that gives a platform to young artists." Like Ms. Taylor, the foundation was instrumental in helping Mr. Posen in the early days of his career.

A later arrival was The City's whip-thin Whitney Port, and it soon became clear that the party had actually morphed into a set for her MTV reality show. So that's why the strategically placed cameras were there, the Transom thought as it inadvertently stumbled into the midst of a scene.