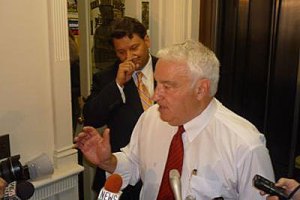 ALBANY—Tom Golisano is not concerned about whether, in his effort to build a "reform" coalition, he cut a deal with "a thief and a thug," as a Senate Democratic spokesman called Golisano's partners in yesterday's coup.
"I'm not 100 percent confident, but very happy with the start," he said about the possibility of rules reforms in the chamber.
I asked Golisano if there could really be rules reform, given both Pedro Espada Jr.'s and Hiram Monserrate's rocky legal standing.
"Yes, I am. If you've had conversations with these gentlemen, as I have, I'm very confident that they're going to follow through," he said.

I asked Golisano if he would pay the legal fees for either man.
"That's his personal life, I'm not going to be involved in that or anything else," he said.
John McLoughlin from WTEN asked whether he was at all concerned about the senators' ethical backgrounds.
"Don't talk to me about ethical background in Albany, New York," he said. "We have a governor that stood on a podium on national television and said he had extramarital affairs and used cocaine. So, you know, these guys have got some personal issues? I don't think I want–that's just part of the picture."