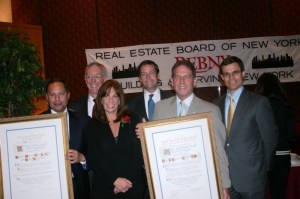 "I still think there is going to be further depreciation of values, more foreclosures. But I think the hysteria of December is behind us," said real estate broker Jim Downey of Cushman & Wakefield, after winning an award for the most creative retail deal of the year. "People are more positive and more resigned—not resigned in feeling defeated, but resigned in understanding this is going to be a dark period for a while."
Mr. Downey and dozens of other real estate brokers converged Wednesday evening on the 101 Club at 101 Park Avenue for the Real Estate Board of New York's 11th annual Retail Deal of the Year Awards. The retail brokers there all acknowledged that rents have declined and transactions have slowed down—but they also maintained that the industry is gradually starting to pick up.
Mr. Downey told The Observer that he believes "the worst is over," and that retail will start to pick up: both in terms of absorption and how much consumers are willing to spend. "I think as fast as [the downturn] came upon us, once the upswing starts, it will also accelerate rapidly," he said.
Many brokers said that the beginning of the year was rough. "Just because I show up at the office every day doesn't mean I'm making any money," said Chase Welles of Northwest Atlantic Real Estate Services, who said that he went for "many, many moons" without making any deals for the national chains he represents: his longest drought ever.
But there are "a few green shoots" sprouting out of the economic gloom, added Mr. Welles, who was an awards nominee and will become REBNY's retail chairman next year. On the retail leasing side, he said that the worst is over, and he is starting to see some activity again.
Brokers said that much of the future will hinge on consumers digging deeper into their wallets to spend again. But many emphasized that now is a great time for well-leveraged retailers to score better locations in Manhattan.
Robert Frischman, president of JDF Realty, said that since banks are giving "no loans," local tenants like the sandwich deli, Irish pub or Korean restaurant are finally able to get "a fair hearing" now that national chains like Starbucks are "out of the expansion business"—just as long as those local retailers have the cash to back the deal. And, according to Mr. Frischman, some have indeed saved up, lying in wait for this kind of opportunity.
Real estate broker Ruth Shnay said that she predicts a 21st-century "changing of the guard" in Manhattan retailers. She and her boss, Nevin Danziger, said that the trend is now toward "better-priced stores"—especially for apparel (Old Navy, H&M, and TJ Maxx), technology (Apple) and food (Whole Foods and Trader Joe's).
Some brokers said that Manhattan will not see a harsh downturn in the long run, since everyone wants to be in Manhattan. So, as long as the rents correct themselves, the retailers who fit the bill will come.
Every broker interviewed by The Observer expressed optimism about the future, though some added that their outlook should be taken with a grain of salt. "You have to be optimistic to be a real estate broker," said Mr. Frischman of JDF Realty, who was an awards nominee. "If you're not optimistic, you're in the wrong business."