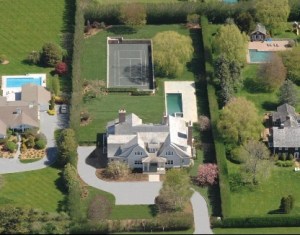 The new seasonal benchmark for renting a Hamptons spread is apparently $295,000. According to data from StreetEasy, eight Hamptons homes are leasing for the summer at that magic number, and they're the priciest out there rental-wise.
The largest of the eight is the 10,000-square-foot home at 672 Halsey Lane in Water Mill, with seven bedrooms and 9.5 bathrooms. It has an elevator and two-story pool house, in addition to a pool, tennis court, and even a fireplace outside.
The second largest is a three-story, 9,500-square-foot house at 235 Middle Line Highway in Water Mill, which includes seven bedrooms, 11 bathrooms and a tennis court and pool. (Sounds like a party.) It's truly a retreat in that you have to motor down a gated 1,700-foot winding driveway to get there.
The "spa house" at 327 Downs Path in Southampton Village has a steam room, a sauna, and "meditative garden" for relaxing after you've called it a day playing tennis, running on the treadmill in the gym, or playing pool in the game room. The house has six bedrooms and 6.5 bathrooms.
Then there's the 5-acre resort at 128 Lily Pond Lane in East Hampton, which has six bedrooms, six bathrooms, a heated pool, a library and staff quarters.
39 Pheasant Close in Southampton Village has a separate breakfast room and formal dining room, a gourmet kitchen, tennis court, pool, and a view of the pond from the covered patio.
If you rent the over 100-year-old, shingle-roofed home at 24 Ocean Avenue in East Hampton, Sotheby's can throw in a housekeeper and manager/chef, making the six-bedroom, five-bathroom house more of a bargain.
The 5,000-square-foot house at 5 Pondview Lane in East Hampton may have only six bedrooms, but it has lots of bathrooms: 11.5, to be exact.
And the 7,500-square-foot mansion at 936 Cobb Road in Water Mill has six bedrooms and seven bathrooms, in addition to a brick pizza oven, elevator, private deck, pool, gym, theater, full bath, and a private small pond outside with a boat dock.
Just to be sure, homes are selling as well at high marks:
The most expensive closing in the second quarter so far, since March 30, was for 64 Mecox Bay Lane in Water Mill, a one-family home that sold for $8.3 million. The three-story, 7,100-square-foot spread has nine bedrooms, 9.5 bathrooms, a formal dining room, and heated pool and tennis court outside. According to Corcoran's Web site, "Upstairs the master with fireplace reigns over 4 additional bedroom suites." To top the house's hierarchical structure, a staff bedroom is on the first floor; and the other staff quarters are in the basement with the media room, wine cellar and gym.