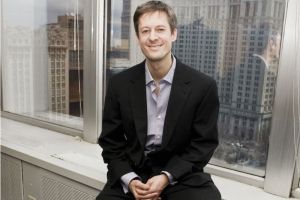 Early this month, New York State Senate chief information officer Andrew Hoppin stood behind a podium in the airy, ornate State House, dressed in a casual gray suit, with a red name tag stuck to his jacket, and delivered a speech about how technology could help fix the state government's reputation as a notoriously outdated and corrupt.
"We can't afford in government to not innovate," he told the crowd. "We have an extreme demand to govern in the best way possible, from the standpoint of, particularly, transparency, accountability, participation—the ability to participate in government—and efficiency, obviously. And in order to figure out how to do that optimally, we really need help. And we need to help each other across all the different sort of lines of demarcation that traditionally segregate our work into different organizations or particular roles."
Mr. Hoppin was at Capitol Camp, an all-day "unconference" hosted and organized by the NYS office of the chief information officer and his own team. Since he was hired in late January by Malcolm Smith, then the Senate majority leader, and Senate secretary Angelo Aponte, Mr. Hoppin and his young tech-whiz recruits have been working on their Obama campaign-inspired revamp of the Senate's Web site and services in order to, as Mr. Hoppin told The Observer in March, bring back-door conversations and government data and empower constituents.
On Monday, June 7, just three days after Capitol Camp, the Senate would flip out of control with Republicans briefly gaining a 32-30 edge in the chamber—ousting tech patron Mr. Smith from his majority role.
"Came to Albany with one shirt Sunday evening; still wearing it," Mr. Hoppin wrote on his Twitter feed on June 10. "[A]lso just ate first food of the day, but that part isn't unusual since Feb."
As Democrats and Republicans continue to wrestle for control in Albany, and as the threat of a power change looms, Mr. Hoppin and his team have been continuing to pump up the Web site they launched in May, nysenate.gov, including blog posts from senators and other statements about the recent upheaval. They've also made modifications that allow constituents to give direct feedback to Senators on proposed bills, hearings and issues in "crowdsourcing portals" for property taxes, ethics reform and campaign finance.
"As best we can, we've been keeping our heads down and doing our work," Mr. Hoppin told The Observer in an interview last week.
In fact, Mr. Hoppin and his crew have been working hard to ensure that no matter what happens—say, if the Republicans secure control of the Senate and replace them—they'll have left their mark not just on Albany, but on government in general.
The team has been focusing on a project at the heart of their initiative called open.nysenate.gov, a data portal that makes information like bill text, budget plans and Senators' expenditure and funding reports more accessible to the public. They also launched a beta version of their Open Legislation Service, a public database of legislation searchable by bill number, sponsor, committee or keyword. Additionally, they're creating color-coded tagging systems within documents for easy skimming; translating legal and political jargon into more readable text for their Plain Language Initiative; designing RSS feeds and alert systems for issues; and crafting both a new email blast program and revamped intranet communication system.
"The technology we have built to give the public direct access to legislative data is the core infrastructure for transparency," he wrote in an email. "Once the data is available, then it can be analyzed, combined with other data, and republished in a manner that we believe will help more people become more informed and engage more actively in the legislative process."
For example, using the CIO team's Web tools and data, an application developer named Mark Headd recently built an instant messaging service that allows constituents to chat directly with senators.
"With this infrastructure built and supplying a limited set of legislative data today, opening up more legislative and other data becomes merely a policy decision rather than a technological hurdle," Mr. Hoppin said. "We've accomplished the heavy lifting behind the scenes."

Earlier this month, the team also secured a Creative Commons license, which was signed off on by Secretary Mr. Aponte and officially adopted into policy. "Everything posted on nysenate.gov is available for anyone to take and use," Mr. Hoppin explained, adding that pictures or text at nysenate.gov (not videos, yet) can be repurposed on other Web sites—as long as it's not used for political funding.
Mr. Hoppin said he hopes that once senators settle their disputes Albany, the technological and transparency work will continue—regardless of who controls the majority.
"Even if we got, worst case, if we get completely shut down, we would've moved the needle in a way that is meaningful—but that's obviously not what we want," Mr. Hoppin told The Observer. "We're working hard to establish a precedent for the Senate and continue to be built upon either by us or by other folks."

And "other folks" might in fact make a power grab for Web services. L&P Media is a Troy, New York–based company that has earned almost half a million dollars over the last seven years developing Web sites for Republican senators and, as The Observer reported in February, was also under contract to blast out emails attacking Senate Democrats. According to L&P Media president John Daniels, the company is no longer under contract with the New York State Senate.
"If they decide to swing it back, they could always renew our contract, but I guess it depends on what day of the week it is," he quipped to The Observer, noting the Senate's daily fluctuations.
Mr. Hoppin said he and his team have been working on both sides of the aisle—Republicans and Democrats—through the upgrades. "We've been working in a trans-partisan way with technology in the Senate, so we've got a lot of advocates. … That significantly increases the chance, I would say, that the nature of our work would be continued to some degree regardless of who is here to do it," he said.
"I don't think we're perceived as being as much of a threat," he added.
Yet some Senators aren't happy with nysenate.gov. "They talked a better game than they implemented with this," said Kemp Hannon, a Republican Senator who called in to The Observer from his Garden City office. "If you looked at it two weeks ago, it was simply Malcolm Smith–oriented. It subsumed senators. That was the problem, and that's why I have a Web site of my own."
"I don't know what is going to happen [but] I'd like a process where exactly what went wrong with this won't go wrong again," he said. "That has been a continued problem with New York."
When asked if he had approached the CIO team about his problems with the site, Senator Hannon said, "The Malcolm Smith regime has been totally immune to any suggestions."
In response to Mr. Hannon's comments, Mr. Hoppin said: "We field requests for improvements all the time from senators on both majority and minority offices. We have an issue-tracking system that is being worked through pretty rapidly, so we really welcome input and feedback." He is looking forward to the summer, when senators might have more time to give recommendations to improve the site and other technological services.
Mr. Hoppin said that if a new regime that wasn't dedicated to transparency, efficiency and participation took control of the majority office, he would leave his post. "But my biggest concerns are my team," Mr. Hoppin said, "and the big opportunities we had to make this sort of like 'worst to first' in terms of a legislative body."
greagan@observer.com