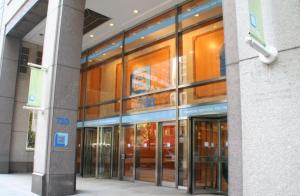 Thirty-seven dollars will buy you 24 grasshopper cupcakes from Crumbs Bake Shop, or it will buy you one square foot of office space for a year in a nice building on Third Avenue in midtown Manhattan.
Thirty-seven dollars a foot. That is how much, on average, Guidepoint Global, an independent research company, will pay for seven years annually for each of the 30,000 square feet it recently leased on the eleventh floor of TIAA-CREF's 27-story building at 730 Third Avenue, between 45th and 46th streets, according to sources. (Asking rent was reportedly $46.) Mind you, this is a direct lease between the tenant and landlord, not a sublease from some financially strapped tenant willing to shed square footage at any cost.
How far the market has fallen. In May 2008, the average asking rent for nice (a.k.a. Class A) office space in midtown was $86.52 a square foot, according to CB Richard Ellis stats. In midtown south, it was $52.87.
This is "indicative of where the market is going," said CresaPartners' tenant rep Bob Stella. That said, there are some peculiarities about the deal. First, the space was newly pre-built, which meant that Guidepoint got no extra money for tenant improvements. Sources say the tenant did get four months free rent, which is nice, but pretty paltry compared to what other landlords are offering.
And, as Mr. Stella put it, "TIAA-CREF is a pension fund manager. They've owned a lot of real estate and I think they understand the market enough to be competitive."
"It doesn't surprise me," agreed Mark Weiss, a tenant broker at Newmark Knight Frank. "Commodity space is trading at a discount."
But still. When's the last time you heard such a low midtown rent for direct space? "Boy, I can't remember," Mr. Stella said. "2001? After 9/11 there were deals done in that range. … Then, maybe 2002, 2003."
Andrew Simon and Logan Gurtman of NAI Global New York City represented the tenant in the transaction, first reported in Crain's. CB Richard Ellis brokers Zachary Freeman and Howard Fiddle represented the landlord, TIAA-CREF, which issued the following statement: "Savings on our rent and occupancy costs combined with new rental income benefit our clients."
drubinstein@observer.com