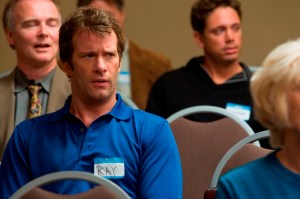 Since Breaking Bad went all dramatic and biblical during its second season, the closest thing we're going to get to a male version of Weeds might be Hung (premiering Sunday at 10 p.m.). The new HBO series from executive producers Dmitry Lipkin and Colette Burson (FX's The Riches) takes the core tenet of Weeds—how far would you go to help your family through a crisis?—swaps drugs for sex, and, basically, just adds some facial hair to the mix. Maybe if the serio-comedy came along five years ago, it could be seen as cutting edge; instead, Hung winds up feeling more like a tad warmed over.
Journeyman actor Thomas Jane stars as Ray Drecker, a divorced and down-on-his-luck high school gym teacher about to hit financial meltdown. With his back against the wall and with help from Tanya, a former one-night-stand (the wonderful Jane Adams), Ray turns to his one true gift for salvation: His large penis. (Hence the title—keep up everyone!) And so we're in Fred Garvin: Male Prostitute territory, with Ray becoming a "Happiness Consultant" for women around the greater Detroit area, while Tanya works as his pimp. While Mr. Jane is sturdy and blank in the lead role, it's Ms. Adams who livens up the proceedings like a dose of Cialis. Too long one of those actresses, with a recognizable face but never a chance to really shine, Ms. Adams gets to utilize her full range of talents on Hung. As Tanya, she's given the makings of a full character transformation—from a resigned and put upon doormat to a vibrant and full of life entrepreneur… who just so happens to be a pimp. If you've been looking for a breakout television performance this summer, you can stop now. Ms. Adams is fairly amazing.
Too bad she's the only thing that's amazing. We give credit to Hung for feeling so economically timely—an opening montage shows the crumbling decay of Motor City with the unblinking harshness of a Frontline documentary—but too many other things in the pilot feel forced, insincere and detached from reality. All of the characters, including Ray, are mocked as broad stereotypes—don't even get us started on Ray's ex-wife, who, as played by Anne Heche, alternates between shrill and unsympathetic—creating an uneasy feeling of audience superiority. Much of the blame for this has to fall at the feet of Alexander Payne, who stepped behind the camera for the first time since Sideways to direct the pilot episode. The Oscar-nominated director (who is also a co-executive producer on Hung) has always been a purveyor of smug self-righteousness, constantly showing contempt for the characters he's created. While that style fits with material like Election, on Hung, a more empathetic touch is needed. For a show like this to work, we have to believe in Ray; we need to take this journey with him, not laugh along at his stupidity. Unfortunately, too many times, Mr. Payne takes the easy way out. Because of that decision—sorry, we can't resist—Hung comes up just short.