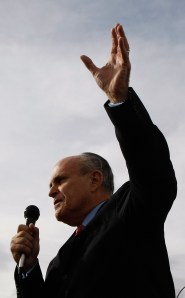 Rudy Giuliani's Op-Ed in today's Times is being read as a clear indication that he still has a run for governor on his mind.
So it's interesting that the substance of his argument, that New York needs a constitutional convention to fix Albany, is also the favorite topic of Mario Cuomo, who Giuliani crossed party lines to endorse in 1994 and who is the father of the man Giuliani might very well face in an eventual 2010 election.
When we spoke last month for a story about the chaos in Albany—which frankly looks quaint by today's standards—former governor Mario Cuomo told me that when it came to state government, "I don't think it's as easy as electing a new governor, electing a new Assembly leader, electing a new Senate leader. There have been lots of different leaders and the same problems. It goes beyond the personnel. The mechanism itself doesn't work and that's why you need a constitutional convention."
Despite the efforts of supporters of David Paterson to call attention to Andrew Cuomo's shadow campaign  for governor—this month the governor criticized to me the "sharks" who "half-govern"—polls continue to show that Cuomo is the stronger Democratic nominee in 2010.
People close to Giuliani have said to me that he is much less likely to run against Cuomo than Paterson, but today's editorial suggests that he is eager to stay in the mix, and, at least theoretically, use the elder Cuomo's pet subject as a campaign talking point against the son.