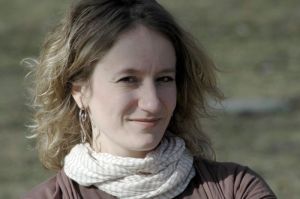 This morning, Danah Boyd was spitting out the social media Kool-Aid at Personal Democracy Forum. "Many of us believe that technologies can be these great equalizers," said Ms. Boyd, a social media researcher for Microsoft and fellow of the Harvard University Berkman Center for Internet and Society, during her keynote speech at the Jazz at Lincoln Center auditorium. "They can bring everybody on board, they can make a welcome, lovely place and that anybody can participate in if only they had the access."
But in fact, she said, sites like MySpace and Facebook are mirroring, even magnifying, our social, political and class divides.
"MySpace has become the ghetto of the digital landscape," Ms. Boyd explained to the crowd. And many of us in these social environments, she said, "have gotten into the habit of crossing the street like we always do to avoid the riff-raff."
In her research, conducted over four years for her fall 2008 dissertation at Berkeley, she found that what we're seeing is "a modern incarnation of White Flight." Facebook users who canceled or abandoned their MySpace accounts are more likely to be white, educated and privileged. Compounding the problem is the press, Ms. Boyd said, "an institution that stems from privilege," which narrated MySpace as "the dangerous underbelly of the Internet while Facebook was the utopian savior."
Indeed, media often portrays Facebook as the reigning king in not only statistics, but as both a business model and a "safer" arena for kids than MySpace (which is, according to the headlines and To Catch a Predator, seething with pedophiles). Yes, more teens go to MySpace and customize their pages with flashy, sparkly texts and music playlists, while an older demographic uses Facebook for business and networking. But, Ms. Boyd said, some teens are using MySpace and some teens are using Facebook, and things got "messy" when she examined who goes where.
"The fact that digital migration is revealing the same social patterns as urban white flight should send warning signals to all of us," she said. "It should scare the hell out of us."
"When people are structurally divided, they do not share space with one another, they do not communicate with one another; this canon does breed intolerance," Ms. Boyd said.
Ms. Boyd said it's important to examine these digital divides as social media is described as "the great leveler" during President Obama's campaign and even Iran's Internet "revolution." If politicians and their techie friends make social media an increasingly important tool for government participation they have to examine how their constituents are segregated on these platforms.
When she asked audience members—politicians, technologists and media types—if they use Facebook on a regular basis, nearly every hand shot up. MySpace users were nil. "There's a cultural wall between users," Ms. Boyd said. "If there's no way for people to communicate across the divide, you can never expect them to do so."
The Facebook/MySpace class divide is not a new story line. Michael Wolff illustrated the polarity in his signature, tart tone during an interview last December with BusinessWeek's Jon Fine. "If you're on MySpace now, you're a [expletive] cretin," he said. "And you're not only a [expletive] cretin, but you're poor. Nobody who has beyond an 8th grade level of education is on MySpace. It is for backwards people."
She pointed out that the language used by Facebook users against MySpace users is what concerns her the most.
Facebook is described by high schoolers as "more cultured" and "less cheesy," she said. "Any high school student who has a Facebook page will tell you MySpace users are more likely to be barely educated and obnoxious," she said. "Like Peet's is more cultured than Starbucks and jazz is more cultured than bubblegum pop. And Macs are more cultured than PCs," she said, quoting a 17-year-old student she interviewed during her research.
"People are already divided and we can't expect technology to automatically integrate them and create cultural harmony," Ms. Boyd admitted. But "you need to understand that these divisions exist." If politicians are using Facebook and Twitter to communicate with their users, "you're only seeing a fraction of the population speak out and be loud," she said. "If you're on Twitter, it's a very specific minority that you're speaking to and that minority looks a lot like you."
"Whose voices are you choosing to listen to?" she asked the crowd. Are you willing to write off a huge portion of the population because they're not using the same service as you are? Perhaps some of us should be asking ourselves same questions.