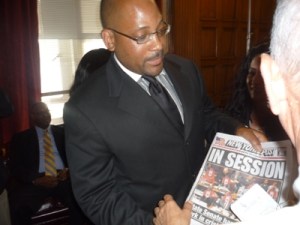 ALBANY—As both sides of the State Senate leadership struggle inch closer to an operating agreement, Democrats are positioning themselves to take one last crack at diluting mayoral control of city schools.
Speaking to reporters after an extraordinary session that lasted just over three minutes, Senators Malcolm Smith and John Sampson, the leaders of the Democratic conference, insisted that they did not want to work out the problems and convene in a regular legislative session, which David Paterson is suggesting as the easiest way to accomplish what needs to be accomplished. In a regular session, only bills that have already passed the Assembly would be eligible to become law.
"We're waiting for an extraordinary session of both the Assembly and Senate to come into place, because the, uh, the constitutionality with respect to this legislation is too important to just go through mock sessions to get things done. So, five days left for the repeal of vacancy de-control," Sampson said Thursday afternoon, in a nod to gathered demonstrators. "School governance. Power for Jobs. Upstate to downstate: We're looking forward to completing the people's work on or before June 30."
That, significantly, is the date that the law giving Michael Bloomberg control over New York City schools expires. Sampson has been clear in his position that mayoral control needs to be watered down, and earlier this week introduced a bill that would require fixed terms for members of a school governing board. Mayoral control has already passed the Democratic-controlled Assembly, and it was assumed that it was only a matter of getting the divided Senate—where it has support from Republicans and some Democrats—to come to order for it to pass there.
Two sources familiar with Democratic strategy said that having the chance to address the legislation is being pushed for by Sampson on behalf of several members of the conference who support replacing mayoral control with something closer to the old Board of Ed system.
Republicans in the chamber are carrying the new pro-mayoral-control bill, and remained confident Thursday in its passage. Bloomberg, who has sent top lieutenants to monitor the situation in Albany, were aghast.
"If the Senate passes something that differs by more—by one word or more, it is saying to the city, 'We want to resurrect the Soviet Union. We want to bring back chaos.' It is not going to be no change whatsoever," Bloomberg said at an event in the Bronx. "The Assembly has acted; they said they're not coming back. Shelly said it a million times and the Senate has had seven years to work on this. It's not the time to make any changes and the way Albany works, if the Senate doesn't pass exactly the same bill down to every single letter, there is no bill. It is just a subterfuge and nobody's going to stand for that."
Sampson's strategy is reliant upon Paterson. Only he can call the Assembly back into extraordinary session, and he said Thursday that he sees no point in doing so.
Dan Weiller, a spokesman for Assembly Speaker Sheldon Silver, said of the Senate situation: "The Assembly has passed these bills."
"I have not heard the Speaker's comments," Senator Smith replied when asked. "And I would only say that we are hopeful that the governor will bring both houses back on Monday so that we can handle the business of the state as Senator Sampson has outlined."
Meanwhile, there is no desire for assembly members to return. "Hopefully, if we have to come back," Assemblyman Rory Lancman, a Queens Democrat who voted for reauthorizing mayoral control, told me, "it's not going to be because of the incompetence of any other branch or institution of government."