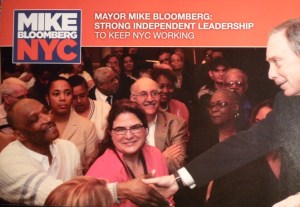 Here's a mailer the Independence Party spokeswoman Sarah Lyons said the group is mailing out to voters, starting this week.
It features Michael Bloomberg at one of the group's events (more recognizable Independence Party members like Lenora Fulani and Fred Newman aren't seen in the mailer, but attorney Harry Kresky—bald guy in the glasses whom Bloomberg once appointed to a Charter Revision Commission—can be seen easily).
The mailing also includes a statement about "independents" and "Independence" that is technically correct.
"Right now there are over 900,000 New York voters who are registered as independents or Independence Party members. That's almost one in five voters."
According to the State Board of Elections latest enrollment statistics, as of April, there are 795,779 voters in the city who are registered to vote, but are not registered with any party. There are 108,616 registered members of the Independence Party.