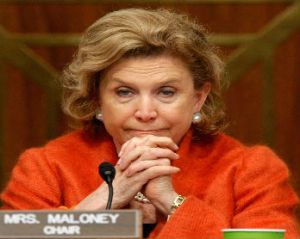 Did Carolyn Maloney jump the gun in rolling Josh Isay out as a campaign consultant?
Last week, when I called Maloney's office with a question about her possibly-maybe Senate campaign, I was referred to Isay, the influential consultant to Michael Bloomberg who, according to a report in City Hall News, Maloney had signed up to work on her prospective bid.
At that point, a source with knowledge of the arrangement between Maloney and Isay said that he was supportive, but that he wasn't actually helping her in any official, paid capacity.
Today, when I called Maloney's office with a campaign-related inquiry, I was told to direct my call to Joe Trippi, who told me this week that he would work for Maloney if she does decide to challenge Gillibrand.
I subsequently asked Isay if he was associated in any way with the Maloney campaign—a situation that would put him, extraordinarily, at odds with his former boss Chuck Schumer.
In an email, Isay said, "I am an unpaid advisor, a huge admirer and a friend of the Congresswoman. I look forward to helping her in any way I can on whatever she chooses to do now or in the future."