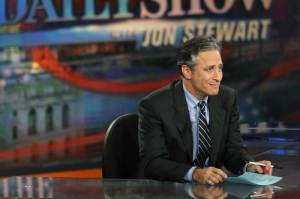 Minutes after The Daily Show's segment on The Times aired last week, some in the Times newsroom voiced their sentiment that correspondent Jason Jones' "report" went just fine. "That was awesome," said one staffer to us on the night of the show. "We're good sports!"
But several hours later, the outside world revealed its own reaction, which was less than favorable. To most viewers, executive editor Bill Keller and assistant managing editor Rick Berke—and communications gal Kristin Mason—did little to help themselves, and, with a little help from the magic of video, The Daily Show successfully made The Times look like the out-of-touch newsroom that so many have accused it of being.
Apparently, some Times staffers who might have given the paper a little lift were in fact interviewed, but they ended up on the cutting-room floor. Media reporter David Carr, metro reporter Sewell Chan and investigative reporter Walt Bogdanich all had interviews with Mr. Jones that never saw the light of day, said staffers. Op-Ed contributorCharles Blow, health writer Tara Parker-Pope and online managers Denise Warren and Michael Zimbalist were invited to have interviews, but as of press time, we couldn't confirm if they had been captured on tape.
"Well, you have to be a good sport!" said Mr. Bogdanich on why he consented to the interview. "I like The Daily Show and The Times."
"We kind of looked stodgy and goofy, but that goes with the territory," said Mr. Carr. "They have their hand on the editing button."
When we asked Mr. Carr if he'd possibly been cut because he was a little too funny, he said, "I doubt that. Jason was going to be the funniest."