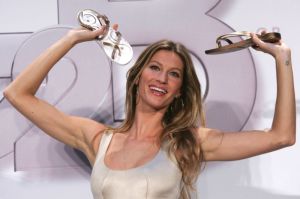 Gisele, it turns out, doesn't sell.
Vanity Fair and Harper's Bazaar each put Brazilian supermodel Gisele Bundchen on covers this year, and both promptly had their worst-selling issues off the newsstand in 2009.
The May Vanity Fair, which featured a bare-bodied Gisele standing sideways with a come-hither look, sold only 280,000 single sale copies, the lowest total for the magazine in nearly two years, according to the Audit Bureau of Circulations Rapid Report. Harper's Bazaar's April issue, meanwhile, sold only 132,000 copies, its lowest total of the year and its lowest since November 2008, when Drew Barrymore was on the cover. Harper's Bazaar has averaged about 155,000 single copy sales this year, and Vanity Fair has averaged 342,000.
"It might be that she's losing her looks," quipped Vanity Fair spokeswoman Beth Kseniak.
Considering the number of covers that Gisele Bundchen has graced this year—including the July issue of German Glamour and German Elle—magazine publishers and editors are crossing their fingers that she has more appeal overseas.
Ms. Kseniak also pointed out that when Gisele graced the Vanity Fair cover in September 2007, it was the third-biggest seller that year.
One industry source said that some newsstand sales were affected in earlier this year after Anderson News, a major distributor, suspended its business operations, though publishers feel that all distribution problems have been ironed out.