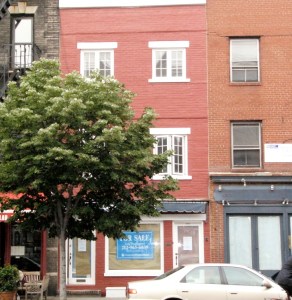 The West Village townhouse at 555 Hudson Street where the late Jane Jacobs wrote her iconic The Death and Life of Great American Cities nearly 50 years ago is now on the market through Prudential Douglas Elliman's Lida Drummond, offering spacious rooms and a rich history for a bargain price: $3.5 million.
A combination of a closed storefront and a two-story house above, it can be sold either domestically, commercially or both domestically and commercially. But the townhouse cannot be split into apartments, according to owner Kathleen Murphy.
When one walks into the side door, a set of narrow wood stairs leads up to a wide living room—Jane Jacobs' former bedroom—which, like the rest of the interior, is freshly painted white. A white couch and two lounge chairs line the windows, which overlook a tree, a sushi restaurant, a nail boutique, and apartment complexes. Adjacent to the living room are a white bathroom and kitchen, where the counter is lined with white marble.
Up the stairs, a hallway leads to three more rooms: a children's bedroom, a white marble bathroom and a spacious master bedroom. To the right of the stairs is an entrance to the patio, overlooking the gardens below.
An extra 1,600 square feet can be added to the 2,080-square-foot townhouse—both by adding to the top of the townhouse and expanding into the garden. (The townhouse was built in 1800; Jacobs, who died in 2006, lived there in the late 1950s and 1960s.)
In the 1990s, the owner, Ms. Murphy, owned a children's bookstore named Tootsie's, which was run almost entirely by local mothers, on the ground floor of the townhouse—the location of the famed candy store when Jacobs and her husband bought the building.
WHILE HUDSON STREET HAS retained some of its historic charm—the White Horse Tavern, where Jacobs poses on the original cover of Death and Life, still teems with young people nightly—it also has several deserted storefronts whose businesses have been driven out by astronomical retail rents. According to Ms. Murphy, the Gottlieb family, which owns most of these abandoned storefronts, refuses to give any potential businesses leases, so businesses must pay the rent with uncertainty month-to-month.
The small, dimly lit cafe next to the Jacobs townhouse, Panino Mucho Gusto—a hangout for both senior citizens and young writers—pays $11,000 per month to the Gottliebs. (The landlord could not be reached for comment.)
Ms. Murphy, who has lived in the West Village for over 30 years, said that all her friends who used to own stores and restaurants in the West Village have been pushed out by the rising costs. "There's nobody left," she said. "When [Marc Jacobs] can buy the space for $20,000 to $30,000 per month, and the previous person paid $3,000, how can you stay in business?"
Five Marc Jacobs stores and four Ralph Laurens now inhabit a few blocks of Bleecker Street alone (a block from Hudson Street), in addition to a host of other brand names and upscale restaurants. As early as 10 years ago, at least a dozen antiques shops lined Bleecker Street, according to West Village residents.
"Bleecker Street is a mall now," said Ned Kell, 76, an owner of Treasures and Trifles, one of three antiques shops left on Bleecker. "They've ruined the Village, as far as I'm concerned."
Bleecker's few remaining antique shops are also doomed to close. Les Pierre Antiques co-owner Isabelle Pilate-Drufin said that the landlord will inevitably force them out after the lease expires in a few years—most likely to replace them with a designer store. Mr. Kell of Treasures and Trifles—which was also founded in 1967—said that when he and his co-owner retire, the store will also retire.
"We are the last of the Mohicans," both Mr. Kell and Ms. Pilate-Drufin said in separate interviews.
What would Jane Jacobs think?
Well, as she told The New Yorker's Adam Gopnik in 2004, upon a visit from her adopted home since 1968 in Toronto: "Whenever I'm here, I go back to look at our house, 555 Hudson Street, and I know that I could never afford it now."