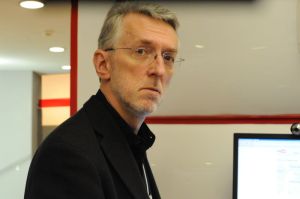 Two years ago, at Davos, the annual summit of great technological and economic minds, a media scion of one of the most powerful journalistic voices in the world was demanding answers from Facebook's co-founder, Mark Zuckerberg.
"He said, Mark, how do we get a community like you? Tell me how!" remembered Jeff Jarvis, the "Web guru" and preacher of New Media gospel, who was speaking at Personal Democracy Forum yesterday. (Mr. Jarvis declined to name the scion, so make a guess.) Mr. Jarvis, explaining why a powerful media person would go to a kid for such advice, wrote in a blog post after the event that Mr. Zuckerberg was the kid "who understands this new world in his soul; it's not the money that should make the moguls jealous but that understanding."
"You can't," was Mr. Zuckerberg's answer. "Full-on geek stare," Mr. Jarvis described to the PDF crowd. "Communities already exist without you," Mr. Jarvis explained. The question you should be asking is, how do you help them do what they want to do better? Mr. Zuckerberg's advice, according to Mr. Jarvis, is to "bring them elegant organization," he said. "If you think about it, that's what government is there for,"
said Mr. Jarvis. "To help us to elegantly organize our communities, our societies, our needs and our lives."
This was the crux of Mr. Jarvis' discussion on how following examples like Wikipedia and Craigslist can help make government more collaborative and participatory.
Mr. Jarvis' idea of a "Googley government," as he described it, is to be truly collaborative and transparent. "We need for transparency to be the default government," he said. "We need a government that is searchable, clickable and linkable." The Freedom of Information Act should not need to exist, he said, because data should already be public and accessible to all citizens.
But people also need to give government the "permission to fail," he said. "We have to find a way to help government try things, experiment, innovate, learn by failing."
Then Mr. Jarvis decided to come out and "play Oprah" to audience members—running around the auditorium with a microphone to allow Personal Democracy Forum attendees to give ideas on what a government in the Google age might look like. "Simple," "easy to understand," "collaborative," "open-source," "throw out the cookie," were some of the responses. Of course, Mr. Jarvis added his own comments to almost every idea, even challenging some of them, like "good design," "rapid response" (Jarvis: "Sometimes deliberate is better") and "get the bugs out" ("We can't make government perfect," Mr. Jarvis reiterated).
Toward the end of the discussion, Mr. Jarvis gave the microphone to one audience member who said: "You're all going to write your congressmen and get them to fund all of this, right?" Right.