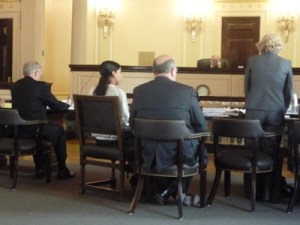 ALBANY—Judge Thomas McNamara is back, and he still doesn't want to get involved in the State Senate leadership struggle.
After hearing an argument from Republican attorney Jack Casey, who filed a motion on behalf of State Senators George Winner and John Flanagan, McNamara declined to sign a temporary restraining order against Angelo Aponte, the Democrat-designated secretary of the senate. Casey said Aponte was obstructing the business of the chamber by withholding bill jackets and needed staff.
"This record is getting old," McNamara, who last week declined to get involved in the issue of who is the temporary president of the State Senate, said in Supreme Court. "In being a citizen of the State of New York for the past several days, this has to be resolved by you no matter what I do or don't do on Friday. There's an absurd assumption that there's a tie vote over there and no votes are being taken. No one is coming out a winner in the public over this. Somebody has got to sit down and address the issues in a way that allows them to be resolved, because it's getting to appoint where significant legislation, et cetera, is unable to be resolved, and that's going to cost the citizens of the state millions of dollars."
He concluded: "I guess I'm talking like a human being, but I don't understand what's going on. You need to resolve this."
McNamara said he will rule on the merits of the case on Friday morning. He will not delay the case any longer—he is planning to take a vacation next week to Cape Cod.