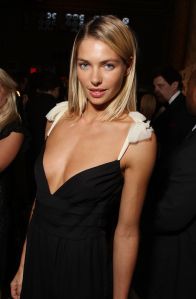 The Four Seasons Restaurant, modernist shrine of food and power, celebrated its 50th anniversary on Thursday night. It was cold for June, but fortunately the red carpet was made of always-in-season Astroturf. "The red carpet is green," co-owner Julian Niccolini lamented. "Alex wanted it to be pink." He was referring to co-owner Alex von Bidder, with whom he was holding court as the party began. "Look who is coming! Look who is coming!" Mr. Niccolini kept crowing.
The parade of notables included members of the power-lunch crowd as well as designers Erin Fetherston and Ralph Lauren. Model Jessica Hart—"Hart, H-A-R-T!" an assistant had to yell to photographers—set flashes on fire. She wore leather pants and shifted her weight constantly, throwing out knees and hips in lanky contrapposto as if freshly delighted by her surfeit of limb. Former Secretary of State Henry Kissinger, who arrived a few minutes later, was one of the very few who incited as much enthusiasm. The photographers did not, however, call him "sweetheart."
Inside, behind the dining rooms' famous metal curtains, a mixture of classic pop, big band and Motown was playing over the speakers. The restaurant held fast to its mid-century aesthetic, even where it could barely be seen—the bartenders poured Coke from small glass bottles.
Still, some things have changed. Overheard: "Every desperate banker is trying to write a book."
Waiters roamed carrying sliders, sushi, spring rolls, oysters and tiny desserts.
The absence of seated dining was a source of concern to Candida Royalle. Ms. Royalle, a producer and director of female-friendly pornography, had gotten separated from the friend who brought her and was looking for someone—anyone—she knew.
Star Jones was perhaps the only woman who, on arrival, grabbed Mr. Niccolini more enthusiastically than the other way around. Perhaps she was feeling frisky thanks to the oysters, which she'd tried for the first time this evening.
"If you're gonna do it," she said, "you do it here."
Author Salman Rushdie and his girlfriend, Pia Glenn, were not interested in talking to The Transom. "We're sort of in party mode," Ms. Glenn explained.
For Mr. Rushdie, this seemed to involve sitting quietly on a banquette at the back of the room. Author Jay McInerney, however, was at the center of activity. His favorite memory of the Four Seasons? "Watching a girl jump into the pool after taking her top off." He paused. "It was a while ago," he said, as the crowd sucked him back inexorably into the Pool Room. "It was good."