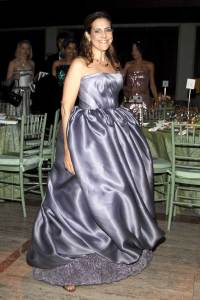 In September, amid the Lehman Brothers wreckage, the avuncular society chronicler David Patrick Columbia invited Alexandra Lebenthal to lunch at Swifty's. His friendly proposal was rather simple: You know finance, you know society, you should be writing it all down.
Mr. Columbia was well aware that Ms. Lebenthal inhabits two co-dependent, increasingly tumultuous worlds in New York City. During the day, she watches the market climb and fall as the CEO of Lebenthal & Co., founded by her grandparents in 1925, and its wealth management division, Alexandra & James, which she opened with her father, James Lebenthal in 2006—going over market reports and PowerPoint presentations in chilly boardrooms. In the evenings, she wears borrowed designer gowns to galas for American Ballet Theatre and New Yorkers for Children and the Society of Memorial Sloan-Kettering, along with socialite pals like Gillian Miniter, Bettina Zilkha, Gigi Mortimer and Debbie Bancroft.
"Alexandra is running late," announced a mustachioed doorman at Ms. Lebenthal's East 96th Street building near Central Park on a recent afternoon.
Fifteen minutes later, Ms. Lebenthal, an attractive brunette of 45, hurried in wearing a pinstriped navy pantsuit, "career" heels, a floral magenta blouse and weighty earrings with pink gemstones. Retrieving some dry cleaning from the doorman, she apologized profusely, explaining that she had had to put in some time at the office that morning since she would be driving to her home in Bellport, L.I., later that afternoon. "It's a little more low-key than the Hamptons," she said. "But close enough that we can still go to all the parties and things."
Upstairs, Ms. Lebenthal was greeted by a squealing Yorkie named Tiger, a babysitter and her 5-year-old daughter, Ellie (older daughter Charlotte, 12, and son Ben, 15, were in school at Nightingale and Dalton, respectively, and her husband, Jay Diamond, at the office of the money-management firm for which he toils). The lady of the house closed the doors to the den and reclined on a leopard-print sofa, pulling her feet up close behind her.
"I was thinking about how in every apartment building around here there were people whose lives were completely changed," she said of her chat with Mr. Columbia.
Ms. Lebenthal began to write a fictional column for Mr. Columbia's Web site, newyorksocialdiary.com, describing the mundane details—the Hampton homes, tuition bills, art collections, designer wardrobes and social outings—of couples whose finances were suffering. Agent Richard Curtis took note, and a few weeks ago, Grand Central, an imprint of Hachette Book Group, announced the acquisition of Ms. Lebenthal's debut novel, about four Manhattan socialites displaced by the economic collapse.
"When we met, I was struck by the fact that she was what The Real Housewives of New York wish they could be," said Karen Kosztolnyik, Ms. Lebenthal's editor at Grand Central. "She had her feet firmly planted in the financial field, but she was also active on the New York social scene. I really liked the idea of this being a Bergdorf Blondes, Sex and the City kind of a book, but with the great twist of the economic collapse."
Not yet titled, it is scheduled for publication next summer.
SHADOW OF MADOFF
Ms. Lebenthal has already finished five chapters, writing at night and in the car on the way to and from Bellport. Her cousin, author Buzz Bissinger, has taken a look at some drafts. "Buzzy's been helping me," Ms. Lebenthal said. (Ms. Lebenthal later called and clarified that Mr. Bissinger had looked at drafts of her columns, not her book.) Rest assured: This is slightly different from the sort of chick lit that saturated the Upper East Side in the early aughts.
"I consider myself to be a social observer," Ms. Lebenthal said, "and there are events like [Bernie] Madoff and AIG and Lehman that have governed my life and work over the last nine months that will definitely be a part of the book."
Also depicted: the slow but palpable change in cocktail chatter over the last year. "People don't talk about their own personal circumstances that much, so you don't quite know who's on the edge of destruction and who's doing comparatively well," said Ms. Lebenthal. "There is talk of who's been Madoffed, and there's still a lot of chatter about the Noel family, but from September until March, it was, 'Oh my God, we're all going to die.'"
Ellie, a girl with big eyes, frizzy hair and her mother's tawny complexion, slid open the wooden doors to ask where she might find her I Spy game. Ms. Lebenthal directed her to the babysitter and waited until she closed the door.
Back to Mr. Madoff, whom she first met in 1998. "Now I think, 'God, he was already deep in it,'" she said, "But to me, he was a highly respected person that I identified with as an entrepreneur."
When news of Mr. Madoff's fraud hit the wires, Ms. Lebenthal was hosting a group of senior female executives at her home for cocktails. "It's all we talked about that night because half of us knew him!"
Much like Mr. Madoff, Ms. Lebenthal's clients often arrive to her by recommendation. In fact, Ms. Lebenthal's gal pals are often asking her for financial advice at benefit dinners and sometimes become her clients.
"I was deeply concerned that people would say, 'O.K., I used to believe that having a name on the door meant that you were honest as the day is long,'" she said, twisting a chunky cocktail ring, also full of pink gemstones, around her finger. "To suddenly think that people should question and will question someone's name on the door …" She let the thought hang.