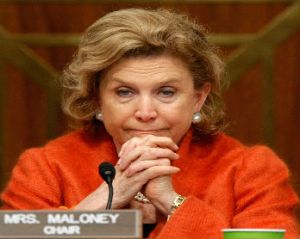 The brief interlude between Representative Carolyn Maloney's threats to challenge Kirsten Gillibrand in a primary is apparently over.
In the letters section of today's Times, Maloney writes that she takes issue with a June 18 column by Gail Collins, which bitingly gave Maloney points for honesty for "rather proudly" saying, "I have thousands of people calling me, telling me not to run."  
("Let's give Maloney props for originality for making it clear that people are beating a path to her door, begging her to cease and desist," Collins wrote.)
In her letter, Maloney argues that the notion that Obama is taking sides in a potential primary — which seemed pretty clear when he asked Steve Israel not to challenge Gillibrand — is a "myth perpetuated by a few establishment insiders."
One of those establishment insiders, Chuck Schumer, is no fan of Maloney, according to multiple accounts from his former aides.  
In the letter, Maloney takes the step of clarifying her remark that "I have thousands of people calling me, telling me not to run" by insisting, "The truth is that thousands of people – many close to President Obama – are calling me, and they are encouraging me to run."
In the reporting of a story about Gillibrand's campaign strategy to quickly crush Maloney in an election, there was a distinct feelling in the Gillibrand camp that perhaps the best way to keep Maloney out of the running, besides the building of overbearing institutional support, was to let her talk as much as possible.