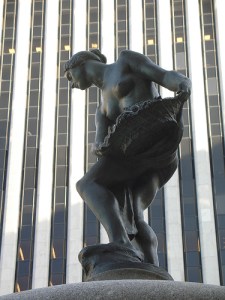 Summer, 2008. Cut to gauzy image of real estate brokers toasting a $120-per-square-foot deal over martinis at the Four Seasons. Yes, things like that happened. On June 17, 2008, The Observer reported the following, based upon Jones Lang LaSalle's biannual Skyline Review of rents in upper-crust "trophy" office buildings — a subset of the larger Class A marketplace:
In these so-called trophy buildings—midtown towers like One Bryant Park and the GM Building—average asking rents increased 3 percent from the fall of 2007, reaching $122.93 a square foot. In the past year, asking rents in these upper-crust towers have increased 18 percent from $104.14 a square foot.

And that's a mere pittance compared to the choicest of the choice spaces in the choicest of the choice buildings—like the 37th floor of One Bryant Park.

In such trophy locations, average asking rents hit $191 a square foot, a 6.1 percent increase from the fall and a 27.3 percent increase from the spring of 2007.
Cut to June 2009, a starkly realist image of brokers, brows furrowed with concern, making one phone call after another in the possibly vain hope of closing a deal, any deal. Tuesday night, Jones Lang LaSalle gave The Observer its still-unreleased Skyline Review, which, as in the past, focuses on trophy properties in Manhattan.
Some of the report's dour highlights? Rents in downtown trophies are off 7 percent since the spring of 2008; in midtown trophies, 24 percent; and the average rents for these midtown towers could descend to the low $70s per foot by 2010.
Other details:
The near-term outlook remains stark for the Manhattan Class A office market and the trophy subset.

At the height of the market last spring, space at the most desired addresses reached an unprecedented rental rate of $123.00 p.s.f. High-paying hedge funds and other top financial firms were the primary drivers behind the need for trophy space. Diminished demand by these firms is reflected in pricing, as evidenced by a 26 percent drop in asking rates. Despite weakened conditions, however, the top end of the market still commands a 16 percent premium over the broader market.

[Since spring 2008], Midtown's high-end buildings saw rents fall slightly more than 24 percent during the same time period, dropping to $88.88 per square foot from $117.46 per square foot. Downtown trophy buildings reported rent decreases of nearly 7 percent, slipping to $60.23 square foot from $64.54 per square foot.

Overall Class A rents have dropped 15 percent in the past six months, falling to $70.63 per square foot in the spring 2009 Skyline Review from $83.10 per square foot in the fall 2008 Skyline Review.

Net-effective rents, which are typically a closer indicator of market conditions, are off by nearly 40 percent from the top of the market. Tenants currently in the market are negotiating for longer periods of free rent and higher capital contributions.

Asking rents will need to catch up with taking rents before bottom is reached. In total, we are forecasting that asking rents in the Midtown Class A will decline by approximately 40 percent from peak to trough (of which 25 percent has already occurred). Under this scenario, the Midtown trophy rent average could fall to the low $70s by 2010. The Downtown trophy average could fall below $50. Both these lows have already been reached in some properties, especially for sublease space.
I need a drink. So do you.
drubinstein@observer.com