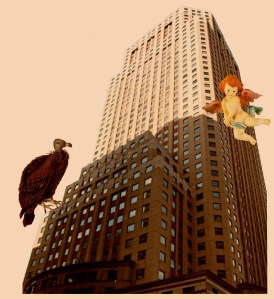 The vulture in angel's wings is coming.
Forgive us. "A vulture in angel's wings" is how one broker describes private equity—all those investors with piles of money that lurk in the recessionary shadows of the commercial real estate marketplace, patiently waiting until the prey has ripened and the bottom has come … so that they can swoop down and ferociously devour once-priceless New York properties for next to nothing.
Real estate executives, who have for months uttered "private equity" like an incantation, now say that its coming is nigh. Perhaps they're just hungry for salvation. Or maybe they're right.
There are certainly signs—purely anecdotal ones—that the latter is true.
Robert Knakal, chairman of Massey Knakal, recently began marketing a note underwriting the Warehouse 11 residential development in Williamsburg for Capital One bank. The response has surprised him.
"We've been marketing it for two and a half weeks, and we have over 200 people who have requested the package on that property," Mr. Knakal said. "A number of those are people who have been relatively inactive for the past year or two who are starting to look again. I think that may be a sign that some of that patient money that has been on the sidelines is going to get back in the marketplace."
Woody Heller, head of Studley's capital transactions group, points to two pending deals as evidence of money "getting off the sidelines": AIG is in contract to sell its towers, 70 Pine Street and 72 Wall Street, to a joint venture between a Korean investment bank and local operator Young Woo for a meager $100 a square foot. And in midtown, George Comfort & Sons (a real estate family), in partnership with RCG Longview (which includes real estate family the Feils), have signed a contract, but have yet to close, on an ownership stake in Worldwide Plaza, a mostly vacant building that belonged to Harry Macklowe before he turned it over to creditor Deutsche Bank.
The reasoning goes like this: If investors are willing to drop money on properties with such large (or potentially large) vacancy rates, just imagine how they would jump into the market should more attractive properties become available!
"I would say most of the money is still on the sidelines, but I have spoken to a couple of people who have decided that they wanted to get back in the market," said David Rosenberg, managing partner of the newly formed Deerwood Real Estate Capital. "It's certainly a minority, but it's definitely positive that some people are picking now as the bottom or near bottom. I don't know if they're right. …"
JUST WHO ARE THESE people with money on the sidelines? Real estate professionals point to a panoply of hedge funds and private-equity investors like Andrew Chung at the Carlyle Group, Jonathan Gray at Blackstone and Ronald Kravit at Cerberus, among others. Blackstone alone raised a fund of nearly $11 billion to invest in distressed real estate. Starwood Capital just announced plans to raise a $500 million fund to invest in distressed debt backed by commercial real estate. Meanwhile, the San Francisco–based Rockwood Capital reportedly closed earlier this year on a nearly $1 billion fund to invest in real estate nationwide.