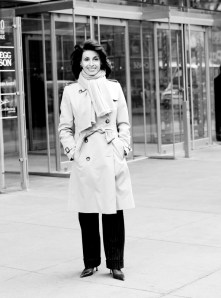 To Mary Ann Tighe, CB Richard Ellis' regional chief executive, Manhattan's high finance is a lot like the Great White Way: People keep predicting its demise, but the shows keeping going on. Ms. Tighe was the main speaker at the Real Estate Board of New York's annual Commercial Management Leadership Breakfast from the midtown Hilton's Trianon Ballroom.
Perhaps reflecting the commercial industry's skittishness, there were plenty of untouched glasses of OJ waiting at empty seats (Brookridge Consulting, where are you? Barclay Water Management? Jones Lang LaSalle?).
In her speech, Ms. Tighe, No. 22 on The Observer's latest Power 100 list, drew on her nearly quarter-century in real estate as well as her status as "a history major," to convey both practical advice and a sense for long-term market patterns. The combination proved effective. First New York Partners, a table of backslappers in cufflinks, chortled through the awards that opened the event but paid close attention as Ms. Tighe spoke.
She addressed the traits that distinguish today's market conditions from previous cycles: most notably, the lack of any lag time between an economic downturn and its real estate effects. Still, she seemed to dismiss the notion of "gloom and doom" that would cast the current climate as an exceptional crisis for Manhattan. Yes, everyone threw real estate on the market in the wake of Lehman's September 2008 fall, but many later pulled it off—showing, she said, that "pervasive hysteria" can't be trusted.
Still, she wasn't Pollyannish.
"2000 was a year when we worked constantly and everyone complained," Ms. Tighe said, "and I said, 'Stop complaining, because we'll look back on this and miss it terribly.'"
Afterward, the crowd's small talk was warm and congenial. The morning had seen a "nice turnout"; Ms. Tighe was a "dynamic" speaker. College-age children were thriving ("Rugby boy, All-American, University of Delaware…"); and professional sports were a source of delight ("I can't believe how many people saw me at the Mets game!").
The leaders of New York's commercial real estate industry streamed back into midtown, full of bacon and hope.