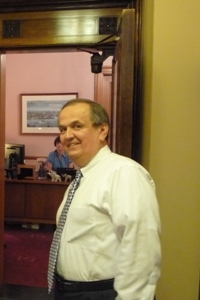 ALBANY—Developing Republican line of attack: Senate Democrats sat mute and refused to stand for the Pledge of Allegiance Tuesday in the Senate chamber prior to a day of dueling sessions.
"I've got 85 e-mails in my office, 78 of them are on that topic," State Senator George Maziarz told me on the floor toward the end of the day. "I've been here 15 years. I've never been to a public meeting before where the Pledge of Allegiance was recited where everyone did not stand."
He continued: "What do what's going in Iran and here have in common? They're shutting off access to the Internet in Iran. And here. Angelo Aponte's not allowing elected senators access to bill jackets."
He was referencing a live Web feed of Senate proceedings that did not broadcast the Republican proceedings Tuesday.
"There are similarities," he said. "Shutting off Internet access. It's shameful."