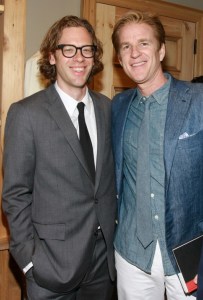 Would "Crazy Joe" Gallo look good in fleece?
The Daily Transom couldn't help but wonder on Monday night, June 1, during a reading of author Tom Folsom's new book about the legendary gangster, titled The Mad Ones, inside the new J. Crew Men's Shop in Soho.
What, was Spark's Steak House all booked up?
"Well, there is a mob of people here," noted former Fox News blogger Roger Friedman, who was chatting with the actor Matthew Modine inside the shop at 484 Broadway.
The place was truly packed. By 7:30 p.m., you couldn't walk around the small store, as waiters handed out champagne, wine, and vodka drinks, along with some hors o'doeuvres–watch out for the chinos!
The event was sponsored by the nonprofit Accompanied Literary Society, whose founder, Brooke Gehan, explained the curious location thusly: "As they are the first major fashion retail chain to support books and even sell old typewriters and other literary ephemera, this partnership with J. Crew fit our organization perfectly."
The actor Mr. Modine, who read aloud a chapter from Mr. Folsom's book, told the Daily Transom: "I think people always like stories about the mob because it's kind of our nature. We live in a society where we aspire to civilization and humanity and goodness, but just scratch the surface each of us, and we are all looking for the opportunity to steal a pack of gum from the grocery store line."
Cinema Society founder Andrew Saffir had yet to read Mr. Folsom's book. "I was about to go buy one," he said. "But I hear there's one in the gift bag. So I'll save myself $24.95!"
Why are New Yorkers so fascinated by the mob?
"I'm a Sopranos fiend, first of all," Mr. Saffir said. "That's part of the thing that drew me here. A bad guy is always appealing, espeically a guy with a heart. There's sort of a heroism about a well-written bad guy, which is what Tony Soprano was. And I don't know much about Crazy Joe. Is that his name? But I'm completely fascinated. He also seems like he was a gangster that went against the grain which is kind of cool too!"
Actor Steve Buscemi, who appeared in 18 episodes of the Sopranos himself, was also on hand to read a few passages from the book.
"I think Tom paints a really great picture of what New York was like in the '60s," Mr. Buscemi said. "I like how he blended all of the counterculture stuff that was going on, with the under world."
The Daily Transom wondered why the fictional Mr. Pink always seems to end up playing criminals?
"It's interesting because I've played a lot of different roles, and I'd say most of the roles I've played have not been gangsters and criminals, but it seems that the criminal roles are the ones that people seem to know," he said. "I enjoy playing a wide variety of characters."
He paused for a quick second and added, "It's always kind of fun to play a bad guy."
The author Mr. Folsom, sporting a gray suit and black-framed glasses, seemed pleased with the evening's turnout. He gave props to the event's sponsors and the book's publisher, Weinstein Books–not to mention the curious host, J Crew. "They've all really been behind the project so it's an exciting time that we get everyone together and celebrate The Mad Ones in a style that I think Crazy Joey Gallo would have appreciated."
Everyone seemed to be trying to get Mr. Folsom's attention, but he was too busy talking about the book.
"I think there is no other story that really gets to the heart of what's happening than Joey Gallo," the none-too-modest Mr. Folsom said. "This is literary in the wake of The Godfather. You know, three weeks before he gets killed, The Godfather is out, so it's a phenomenon. Everybody who is anyone wanted to meet a real life gangster, and here's Joey Gallo hitting the scene. What more could you want with a gangster? He looked the part. They call it gangster chic. He dressed like the Reservoir Dogs–black suit, white shirt, skinny black tie. You know, he had the whole look down. And the big shades of course."
Publisher Harvey Weinstein didn't show up until towards the end of the event. He said he was also planning to turn The Mad Ones into a movie.
"This is a great New York story," Mr. Weinstein said. "The mafia meets the literary society meets the beat culture. I mean, it's just got it all. Very few stories do. This one does. I think it sells because certain mobsters are fantasy figures. They start doing right, and doing things for the right reasons, and then the dream gets corrupted. And I think America likes their outlaws. But they like their outlaws to get punished in the end."