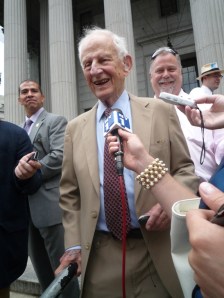 When retiring Manhattan district attorney Robert Morgenthau endorsed Cy Vance as his successor, it was by some measures the most significant (if not the most surprising) endorsement in the race so far. Morgenthau has won reelection nine times and has national name recognition.
But as Vance's opponents are pointing out, it's far from automatic that Morgenthau's considerable political support will transfer along with the endorsement.
An aide to another candidate in the race, Richard Aborn, distributed a list of people and groups that supported Morgenthau in his reelection four years ago, but who now are backing Aborn.
At the endorsement this morning, Morgenthau was asked if he's disappointed more of his supporters, including those in the City Council, weren't following him in supporting Vance.
"I would never predict what a city councilman would do," he said. Morgenthau went on to say, "It's a free country. People can do whatever they want to do."
Erin Duggan, a spokesperson for Vance, said, "Anyone with a real knowledge of the office has endorsed Cy Vance, including many who have worked with all 3." (At an event this morning, Vance named a few of those people, including Linda Fairstein, "who ran the sex crime unit for twenty years" and "who worked with all three of us.")
One of Morgenthau's most notable supporters four years ago, Mayor Ed Koch, endorsed another candidate in the race, Leslie Crocker Snyder. (A spokesman for her, Eric Pugatch, said, "Leslie has the qualifications and progressive vision to be Manhattan's next DA, and that's what the voters are looking for.")
The list of former Morgenthau supporters now backing Aborn include:
State Senators Bill Perkins, Eric Schneiderman, Jose Serrano,and Eric Adams; Assembly Members Jonathan Bing, Deborah Glick, Richard Gottfried, Brian Kavanagh, Daniel O'Donnell, and Linda Rosenthal; Council Members Gale Brewer, Miguel Martinez, Rosie Mendez, and Melissa Mark Viverito; and former DA candidates Catherine Abate and Richard Davis.
The list also includes the following groups:
Association of Legal Aid Attorneys, Broadway Democrats, Chelsea Reform Democratic Club, Coalition for a District Alternative, Community Free Democrats, Democrats in The Heights, Downtown Independent Democrats, Eleanor Roosevelt Democratic Club, Gramercy Stuyvesant Independent Democrats, Lexington Democratic Club, Park River Independent Democrats, Samuel J. Tilden Democratic Club, Sojourner Truth Democratic Club, Three Parks Independent Democrats, United Auto Workers Region 9A NYC CAP Council, Village Independent Democrats, and the Working Families Party.