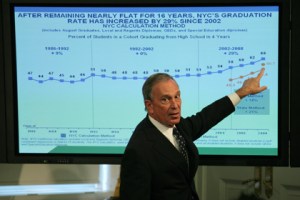 Bob Benenson of CQ thinks congressional races in New York will be the "Woodstock of 2010 politics," mostly because so many Democratic freshmen will be defending their seats while David Paterson runs for election.
Charlie Rangel won't call the Post, and Col Allan can't read his mind.
Michael Bloomberg previously stopped pushing for pay cuts from labor unions, which is part of the problem.
Bloomberg reached a new deal with teachers that he says will save $2 billion over 20 years.
The A.P. discovers "rubber rooms" where 700 teachers accused of misconduct are paid to do nothing.
A longer version of that story is here.
A reader wonders what caused the rise in city graduation rates.
Yoav Gonen has more on that.
Antonio Villaraigosa, whom Bloomberg has raised money for, won't run for governor of California.
Delays at Ground Zero are making allies out of Bloomberg and Sheldon Silver.
A judge recommended firing a Staten Island Ferry employee for participating in a skit about Nazis in front of coworkers.
When the White House listens to the public, it gets sloppy, says the Times.
Ed Koch wants ice cream.
A loophole in city law led to a $5.2 million award to a subcontractor injured while working on a Corrections Department building.
Bruce Ratner gets a new Atlantic Yards deal, and 22 years to pay off money to the M.T.A.
Nicole Gelinas calls the deal "crazy" and says the M.T.A. needs money now.
In Nassau and Suffolk, graduation rates are 88.5 and 84.5 percent, respectively.
(It's better than the news from the Catskills.)
Critics wonder if tests are getting easier.
The Post talks to Harold Levy about the old Board of Education.
The Post editorial board thinks the 40 percent cut in funding for the public advocate's office means there's 60 percent more to cut.
Chuck Lesnick slashed Phil Amicone's capital budget.
Bob Kappstatter has chatter from the Bronx.
Richard Espstein wonders why one pedicab accident triggered calls for new regulations.
Joe Biden blesses us from space.