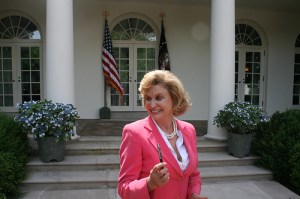 Total swine flu death in the city is now at 23.
Nassau registered its first swine flu death.
Carolyn Maloney attacks Kirsten Gillibrand, saying, "She's, to my knowledge, never passed anything. She spends all her time fund-raising. I spend my time doing things."
This blogger wonders why Gillibrand, or Chuck Schumer, aren't sponsoring legislation to repeal 'Don't Ask Don't Tell.'
Bill Thompson is a Star Trek fan. Michael Bloomberg isn't.
Yesterday's Quinnipiac poll had "no good news in there" for Thompson, said Mickey Carroll.
Readers go back and forth about the newsiness of the Quinnipiac poll.
One of the mayor's top aides met with the rabbi who just quit his job for providing preferential treatment to Jewish inmates.
The rabbi, Leib Glanz, was appointed to the job under Giuliani but without the usual vetting process.
The New York Post editorial board wishes Bloomberg fired the responsible parties. Now they ask, "Who knew what, and when?"
The New York Times editorial board says if Albany gets its act together and budget projections work out, Bloomberg should get some "bragging rights for the fall elections."
A report out today says large high schools are hurt by the city's promotion of small high schools.
Erin Einhorn said the comptroller candidates got "nasty" yesterday.
Eliza Shapiro has the play-by-play.
Readers debate Diana Reyna's reelection race, and the role of Vito Lopez there.
Juan Gonzalez reports on UNITE HERE's civil war and fight over $12 million.
Bloomberg and Sheldon Silver complain the Port Authority is not progressing on ground zero development.
Eliot Spitzer is trying to keep details of his prostitution case private.
"The Mayor of Astoria" George Delis was hit with a sexual harassment lawsuit. Community Board 1 Chairman Vincio Donato allegedly ignored complaints.
Steve Levy wants to lay off cops.
Eminent domain critics, your dream scenario has arrived.
White Plains mayoral candidate Adam Bradley has so many endorsements he "leaves no room on the ballot in November for other candidates, except those who form their own parties."
Randi Weingarten is set to leave the UFT on August 1.
Page Six names Randi Weingarten as one half of a liberal super-couple.
And MySpace is laying off 400 workers.