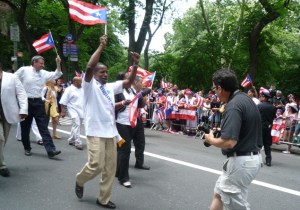 The headline on this Agence France-Presse story: "Mayor? King? NY's Bloomberg tightens his grip."
Dan Janison notes that test scores in New York City didn't rise as much as they did in Suffolk and Nassau.
About Hiram Monserrate going back to the Democrats, Al Sharpton said, "When other Democrats like Malcolm supported a Republican, Bloomberg, for mayor in 2005, no one accused them of flip-flopping."
"It would be a flip-flip of monstrous proportions," says reporter Jay Dow.
David Paterson joked at his fund-raiser, "At an event like this, everyone likes to speak to the leaders. Unfortunately, nobody knows who the leaders are."
Lee Miringoff said, "As the most visible member of a dysfunctional government, he's the most vulnerable."
"They better not be here, because we're going to beat the hell out of them," said a man at the Puerto Rican Day parade about Espada and Monserrate.
The price for the tickets to the Yankee-Mets game Espada and Monserrate attended was about $650 a piece.
Sheldon Silver plans to have the Assembly recess for the summer.
Robert McCarthy looks at Steve Pigeon, and writes, "Wherever chaos and turmoil reign, it seems, Pigeon is there."
Kevin Parker is cutting a deal.
Michael Daly recalls Pedro Espada's problem giving money to poor people.
Malcolm Smith wanted to talk about the Puerto Rican Day parade instead of Albany.
Susan Lerner says New York is run by two billionaires: Tom Golisano and Michael Bloomberg.
Huffington Post carries a Room 8 item about Golisano possibly paying for Hiram Monserrate's criminal defense lawyer.
Fernando Ferrer endorsed Bill Thompson.
The New York Post editorial board hopes Thompson starts "searching for more substantive examples of waste in a city budget that tops out well above $60 billion."
The Assembly gets a bill to extend mayoral control of schools.
Kirsten Gillibrand advocates for breast-feeding.
She also got endorsed by a teacher's union.
Congressional Quarterly look at Gillibrand.
Eric DiNallo tells This American Life he was responsible for overseeing about only 7 percent of AIG.
The city will begin regulating pedicabs.