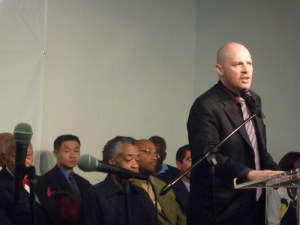 Carolyn Maloney tries fund-raising at Fred Hochberg's party; her spokesman said at least some of it was just joking.
Joe Trippi calls Maloney's poll numbers against Kirsten Gillibrand "extraordinary."
Jerome Armstrong says Maloney and Gillibrand are both unknown to most New Yorkers.
Andy Stern tweets about lobbying senators in Washington with Michael Bloomberg.
Bloomberg supports the public health care option, but won't say that publicly, just yet. An op-ed on the issue is in the works.
The AP reports that Bloomberg supports reopening the 9/11 Victim Compensation Fund but has concerns about related costs the city may bear.
Doug Schoen writes, "Obama and congressional Democrats are running the risk of attempting too much, too soon with health care reform." He suggests "a strategy of incrementalism."
The budget Bloomberg and the City Council just passed "holds the seeds of major fiscal troubles" in the years ahead, writes Glenn Pasanen.
Bloomberg and Best Buy will help New Yorkers "Be Cool and Smart."
With two former aides set to plead guilty to embezzling, Kendal Stewart said, "With all honesty, I don't think they have done anything wrong. I think they are being punished for not keeping correct paperwork."
"It's just not credible for him to say that he didn't know," said one of Stewart's rivals.
"I knew that my conduct was illegal and wrong, your honor," said former Assemblyman Anthony Seminerio, who pleaded guilty to influence peddling.
Sol Stern writes "new teachers who have never before had a classroom will be standing before 25 young children within 20 minutes of reporting to work for the very first time."
Betsy Gotbaum's community van is criticized in a Post story (which also notes it wasn't paid for with public money).
A blogger gets four different vote counts for the Chelsea Reform Democratic Club's endorsement of Christine Quinn.
Roger Toussaint's ally, Curtis Tate, may have trouble winning the union's election.
Randi Weingarten is stepping down from the UFT.
"Rather than resist change, we have led it," Weingarten said at her going-away speech.
Michael Mulgrew is expected to be her interim replacement.
New parent-friendly school report cards are on the way, reports Philissa Cramer.
The city health commissioner wants graphic anti-smoking images posted wherever cigarettes are sold.
Tom Suozzi's cigarette tax is in jeopardy.
Errol Louis says Brooklyn residents will organize to oppose the plan to move a homeless shelter there from Midtown Manhattan.
Phil Amicone rejected the budget crafted by Chuck Lesnick and the Yonkers City Council.
Amicone is also trying to get nine aides out of having to take a civil service exam.
Under a new deal, future Hempstead public employees will contribute towards their health care costs, but "[e]xisting employees will continue to pay nothing toward the costs."
On the fallout from the sex scandal in South Carolina, Renard Sexton says if he's like Rudy Giulaini, and admits everything quickly, he'll be fine. If he hides things, like Eliot Spitzer, he may not be.
The Times editors compare the sex scandals of politicians.
The M.T.A. criticized Lockheed Martin for their work on installing cameras in the subways.
The Obama administration doesn't like China's plan to block access to certain web sites.
And pictured above is Michael Mulgrew, expected to be named as Weingarten's interim replacement at the UFT.