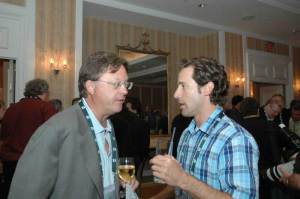 By many measures, Eric Hippeau, the man who was named the new CEO of the Huffington Post on Monday, just got a dream job. He has a Web site with tiny overhead that has only burned through about $12 million in its first three and a half years online.
And that's not all. According to the Web site, it has 21 million unique users every month. It's the most-linked-to blog on the Internet, according to Technorati. And it has seen a 100 percent increase in traffic year-over-year. Its popularity and its reach aren't up for debate.
And yet … it isn't profitable.
"We're a company that makes money some months, loses money other months," said Ken Lerer, the chairman of the Huffington Post. "Eric thinks this isn't the time to be profitable—it's the time to invest."
And so goes the dilemma that faces all Web media moguls today: Even if you follow the Web biz handbook—get traffic, and the advertising dollars will inevitably follow—it's still seemingly impossible to build a real big-league business on the Web. If the Huffington Post is years away from turning a profit, then what hope do the rest of us have?
"I think it's more about how can we accelerate our expansion, and how can we monetize our traffic," said Arianna Huffington, editor in chief of the Huffington Post.
And just to be clear, what precisely does "monetizing traffic" mean?
"It means taking our traffic and bringing more advertising against it, which is our business model," said Ms. Huffington.
But when will it work?
Mr. Hippeau, a French venture capitalist who spent time studying at the Sorbonne and who has built media franchises before (Ziff-Davis, SoftBank Capital), is charged with the task of figuring that out. It's guaranteed that the rest of the media world is going to be following very, very closely.
Even The New York Times, which has kept the gates open to all of its content in the hope that advertising money would follow (and they claim that it has—executive editor Bill Keller recently told his staff that The Times makes "a lot, a lot of money" from online advertising, and that he believes that its online ad revenue outpaces what The Journal makes through its Web-subscription model), is just weeks away from deciding whether it will begin charging readers for clicks after they peek at a few too many stories. In other words, waiting for advertising money to come pouring through, even for the best of the best, isn't entirely working.
The Huffington Post has no plans for gating any of its content—for now.
In fact, the Web site plans to expand.
"This is the time to invest," said Mr. Lerer. "It doesn't necessarily mean acquisitions—it could mean staffing up. It might mean smaller acquisitions. We need to do it intelligently."
Mr. Lerer explained that part of the HuffPo's new growth plan will include lots of "partnerships" between the Huffington Post and other Web and news outfits. Like cross-linking, we asked?
"I think deeper than that," he said. "I don't want to get out ahead of it, but I think we'll have deep partnerships with major players, which goes beyond content-sharing."
He explained that the Huffington Post hasn't spent a penny of the $25 million it received from Oak Investment back in December, and that it will be Mr. Hippeau's job to figure out where and how to dole it out.
"We're doing very well with advertising, but what else can we be doing?" said Ms. Huffington. "In terms of advertising that is more creative? In terms of bringing in more partnerships? A lot can be done. Eric has a real background in sales and advertising."
"I don't think we really need to fix very much," said Mr. Hippeau. "I think the Huffington Post is doing quite well, and you can tell that by the metrics. I'm not here to fix it; I'm here to grow it."
"We have had a tremendous amount of headway in revenue numbers," said Betsy Morgan, the outgoing CEO who is leaving the company and being replaced by Mr. Hippeau. "We have a lot of running room ahead of us for display ads."
And despite the fact that she conceded display ads are "lagging" right now, she said, "the story has not yet been written about display ads. The demise of the display is way wrong."
"There's definitely money to be made," continued Mr. Hippeau. "I speak to advertisers all the time and ad agencies all the time, and people are very, very interested in embracing the Web, and all other forms of digital communication.
"Here, we have a big opportunity," said Mr. Hippeau. "We want it to be profitable."
Eventually.
jkoblin@observer.com