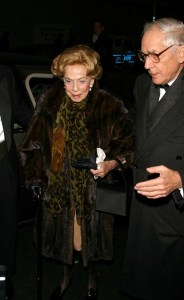 And on the seventh day, Henry Christensen rested.
The late socialite Brooke Astor's former attorney sat for his sixth (and mercifully final) consecutive day on the witness stand as the trial of Ms. Astor's son, Anthony Marshall, wrapped up its sixth week of testimony on Thursday, June 4.
Manhattan Assistant District Attorney Elizabeth Lowey grilled Mr. Christensen on a variety of topics in hopes of better proving her case that Mr. Marshall had taken advantage of his elderly mother's Alzheimer's to swindle her estate to the tune of some $60 million.
Mr. Christensen arrived in court wearing a beige suit and bright blue tie, but his spring-like attire did not match his demeanor.
He raised his head to the ceiling on more than one occasion and often nodded brusquely instead of stating his answer verbally.
A few times, he jolted forward, at one point barking, "I gave fifteen years of devoted, undivided attention to Mrs. Astor, and I was fired, and I resent the suggestion that I was doing anything other than what she wanted."
Most of his comments seemed tart not belligerent. When the questions again returned to Ms. Astor's state of mind and her medication, Mr. Christensen said with a smirk, "I already testified [about this] this morning, yesterday, or last week." To which, Ms. Lowey replied, "I'm sorry, we're almost done with you."
During a series of questions about Herbert Haseltine animal sculptures and drawings of donkeys and dancing dogs left in her will, Mr. Christensen said bemusedly, "These are the only dancing dogs I've heard about."
Contributing to the collective short fuse of the courtroom, defense attorney Fred Hafetz engaged in a round of whack-a-mole dissent, rising out of his seat every few questions to object to what he called Ms. Lowey's "entirely improper line of questioning."
After celebrity defense attorney Thomas Puccio asked Mr. Christensen only one brief question, Judge A. Kirke Bartley told Mr. Puccio dryly, "You broke my heart."
When the judge finally excused Mr. Christensen, he joked, "I have no further questions, either. You may now resume your life."