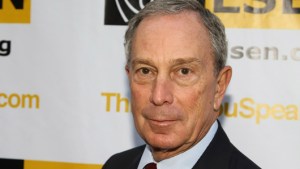 Michael Bloomberg is getting friendly with one of the public advocate candidates. The candidate is Normal Siegel.
According to Siegel, an anti-authoritarian civil-liberties attorney who sued the mayor over term limits, the mayor has engaged him in an ongoing dialogue about economic issues, and even arranged to send him reading materials on the topic.
"And I did read it, learned some stuff," said Siegel, who is current making his third run for the office of public advocate.
According to sources who would know, the mayor hasn't done any such thing for any of the other candidates. And the campaigns of the other candidates–Bill de Blasio, Eric Gioia and Mark Green–say the same thing.
Siegel says that his dialogue with Bloomberg began when the two found themselves marching side-by-side in St. Pat's for All parade in Sunnyside on March 1.
Siegel said he was ushered to the front of the parade by the event's organizers. After some initial reluctance, he said he took his spot, and found that the mayor was right next to him.
There might have been good reason to keep these two men apart. Siegel was one of the plaintiffs in a suit against Bloomberg over his extension of term limits earlier this year, and has criticized the city over not allowing protesters to gather on the Great Lawn in Central Park. Awkward, possibly.
But the night before the parade, Siegel said he had written an open letter, on his campaign web site, to New Yorkers about the economy. So when he found himself next to the richest man in the city, who is also its mayor, that seemed like a safe topic of conversation.
"People were taking photographs of us in the front row and I said, 'Mister mayor, with all these pictures, is that going to help you, politically, or would it help me, politically?'" Siegel recalled. The mayor "smiled and laughed, and so did I. I think that was a breaking of the ice, and then, we started talking.
"So, a lot of our conversation was about the economy, and some other issues came up as well, and it was a good conversation. Whether it was gratuitous or not that they put me up there next to him, eh, clearly it was a breaking of the ice, that's for sure. I've always seen him in the past, always said hello, but never really had the in-depth, substantive conversation.
"He was pleasantly surprised that I knew stuff about the economy," said Siegel.
Bloomberg campaign spokesman Howard Wolfson did not elaborate on the mayor's private conversations with Siegel or any of the other public-advocate candidates, but said, "The mayor talks about the economy every chance he can, and is happy to talk about his plans to create or save 400,000 jobs with prospective candidates."
The Bloomberg-Siegel connection may seem to be an improbable one. Until you look at the alternatives.
Siegel trails his three Democratic opponents in fund-raising but, according to public opinion polls, has the second-highest name recognition, behind only to the man who once held the office, Mark Green.
Green badly wants to be mayor, and to the extent that he enjoyed success as public advocate–the only office he was ever elected to, though he ran for many–it was by setting himself up as a conspicuous counterweight to then-mayor Rudy Giuliani.
Siegel is not a shy opponent, either. As a civil-liberties advocate, he is of the old school: abrasive, loud and reflexively inclined to resist whichever side has the power. But, in contrast to Green, the trait that Siegel emphasizes most when campaigning, and the one that next mayoral administration seems to have taken note of, is his lack of interest in running for mayor after being public advocate. It is the job he wants.
So, the thinking goes, he'll organize marches and rallies and will follow through on his threats to use the public advocate's office as a nerve center for a network of "social justice coordinators" who would swoop onto the steps of City Hall in a moment's notice. He will be a pest.
But unlike Green–or, for that matter, Eric Gioia or Bill de Blasio–he won't be obliged by any ideas about 2013 to spend the intervening time making political hay. His opponents are considered to future mayoral candidates who could, theoretically, position themselves for a 2013 candidacy by taking shots at what would be a lame-duck Bloomberg administration for the next four years.
Siegel declined to get into detail about what information Bloomberg shared with him, and the mayor has, in the past, insisted on not revealing details of his private conversations. But Siegel is clearly happy to be seen as a willing pupil.
When the city Campaign Finance Board sent out their Voter Guide survey to all candidates, they asked they asked what each candidate considered to be the most pressing issue facing them if they were elected.
"I wrote, 'revitalizing the economy,'" said Siegel.
"How, in new York city, can we continue to provide traditional services for people with reduced incomes from that community, and that's my number one priority. People are surprised at that because they always see me and think 'civil rights, civil liberties.' So for me to be talking about the economy, people say 'Wow,' and my answer is 'I have depth. I have gravitas.'"