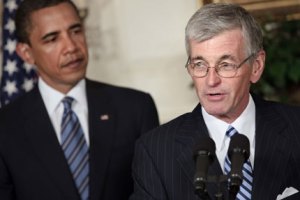 ALBANY—Every May, some school districts in central New York and the North Country hold public policy forums in conjunction with school budget votes, and elected officials often attend.
When Ray Meier was still serving in the State Senate, he would run into Representative John McHugh at this event, and others like it, from time to time. "McHugh would come in with these binders filled with all kinds of material," Meier recalled on Tuesday, "and then never have to refer to them because he knew this stuff."
When Barack Obama nominated McHugh to be Secretary of the Army Tuesday, McHugh, who is serving his ninth term, was probably already looking for a new post. There was a good chance he would have been out of a job after the 2010 redistricting, and he was one of only three Republican members of Congress left in the New York delegation. 
People who know McHugh describe him as a policy wonk who has kept a pretty low profile while representing a large, somewhat remote, and almost all rural congressional district.  A political moderate, McHugh voted with Democrats 26 percent of the time in 2007-2008, according to Congressional Quarterly. Other than his work on military issues, McHugh's biggest accomplishment in Congress was a major, much-needed overhaul of the U.S. Postal Service—not exactly the sort of thing that gets a lot of press.
In short, he's exactly the kind of guy you would reach across the aisle to hire.
"The amount of work he did in the subcommittee on the Post Office showed the type of trench work he did on public policy—both national issues and local issues," said Tom Reynolds, who served with McHugh in both the State Senate and the House, and has known him for 25 years. "Anyone who would assume [they knew] what McHugh was going to do was going to make a dire mistake, because his methodical thought process would lead him to a conclusion that was custom-fit for McHugh."
Obama cited McHugh's independence when he announced the nomination.
McHugh was born and raised in Watertown, and graduated from the public high school there in 1966 before heading to Utica College, where he earned a bachelor's degree in political science, according to his official biography. (He later earned a master's degree in public policy from the Rockefeller Institute of the University at Albany.) He spent five years as an assistant to the city manager in Watertown, and then worked for nine years as a staffer to State Senator H. Douglas Barclay. In 1984, McHugh was elected as Barclay's replacement. He served in the Senate until 1992, when he was elected to the House of Representatives.
There, he quietly climbed the ladder, and is now the ranking Republican on the Armed Services Committee. He has fought tooth-and-nail to expand Fort Drum, the sprawling military base that is home to, among other units, the 10th Mountain Division. It lies just northeast of McHugh's home city, and is the largest employer in the district. It's important enough to the district that in 2004, he and Hillary Clinton wrote a letter to the fictional "West Wing" character Josh Lyman, who had proposed—on the show—closing Fort Drum.
McHugh recently made news by pushing for greater involvement for lawmakers in the Defense Department's decisions regarding contracts for weapons. 
"He has been at the forefront of military personnel issues," said Representative Eric Massa, a freshman Democrat who first met McHugh in 2003, when Massa was a naval liaison in Washington. "This is someone whom we would all turn to almost automatically for help and guidance with respect to all things military-personnel."
"John McHugh has always been a force of moderation on all issues," Massa continued. "Even when he would disagree with a particular position, he was able to do it in a manner that was non-confrontational, and one that left all parties thinking reconciliation."
The response to McHugh's nomination from Democrats, as well as Republicans, has been resoundingly positive.
(It should be noted that the nomination was also a political victory for Democrats, something that has been already been addresed by Republicans. They have not been able to unseat him—he was re-elected by a large margin in both 2006 and 2008. That said, without a doubt he really is well-respected and well-liked)
Massa called it "frankly brilliant." Representative Steve Israel, a Long Island Democrat who also sits on the Armed Services Committee, said he was "very excited to see John taking this post. This is a choice that is good for New York and good for the United States Army."
Senator Chuck Schumer called McHugh a "good friend" and vowed to work for his swift confirmation.