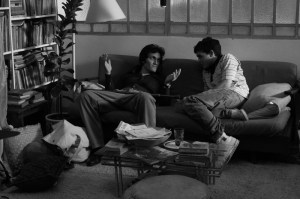 Tetro
Running time 127 minutes
Written and directed by Francis Ford Coppola
Starring Vincent Gallo, Maribel Verdú, Aiden Ehrenrich
Francis Ford Coppola's Tetro, from his own screenplay (partially in Spanish with English subtitles), conveys a sense of his own life and career convulsing wildly between fulfillment and tragedy, triumph and debacle. Now 70, Mr. Coppola can look back on an existence drenched with family feelings and vague guilt complexes. These he has expanded and wildly overdramatized in an independent low-budget feature shot on location in the most picturesque and art-drenched neighborhoods in Buenos Aires. He has filmed the present-day scenes in highly contrasted black-and-white, influenced by such B&W classicists as Akira Kurosawa, Michelangelo Antonioni, Elia Kazan and Robert Bresson. For scenes set in the past or as fantasies, he turned to the vivid color palette of Michael Powell and Emeric Pressburger, represented by extensive footage from The Red Shoes (1948) and The Tales of Hoffman (1951). The narrative of two brothers in conflict is suggested by Rumble Fish (1983), which Mr. Coppola adapted from one of S. E. Hinton's series of young adult novels, with Matt Dillon living in the shadow of older brother Mickey Rourke.
In Tetro, Vincent Gallo plays the title character, the older brother of 18-year-old Aiden Ehrenrich's younger brother, Bennie. The film begins with Bennie as he arrives in Argentina from the U.S. on a cruise ship on which he worked as a waiter. We soon learn that Bennie is in search of his estranged older brother, who had left his family in the U.S. 11 years before, without a word of explanation. When Bennie finally locates Tetro's house, he is welcomed very warmly by Tetro's girlfriend, Miranda (Maribel Verdu), but Tetro himself at first refuses to leave his room to greet Bennie. When he finally does, he advises Bennie to return home as soon as possible. Tetro also refuses to answer Bennie's plaintive queries as to why, in effect, he abandoned his younger brother. Tetro angrily refuses to discuss the subject. And so it goes, on and on, for an inordinate length of time—Bennie beseeching, Tetro turning away.
In the meantime, Miranda tries her best to bring the two brothers together, without any success. Finally, with Miranda's help, Bennie gains access to Tetro's hidden hoard of writings and secrets, and sets out to write his own musical play on what he has discovered. Bennie's writing, in unwilling collaboration with Tetro, attracts the attention of a very influential critic named Alone (Carmen Maura), who awards Bennie and Tetro the Patagonian Festival Prize, at which ceremony all the family secrets come tumbling out. I would be a spoilsport indeed to reveal them.
Klaus Maria Brandauer's Carlo appears only in the multicolored past as a disreputable parental figure for Tetro and Bennie. Tetro has already been compelled to relive a traumatic car accident, in which he, the driver, survived, and his and Bennie's mother, sitting next to him, was killed. Mr. Brandauer's Carlo is a world-renowned orchestra conductor, and bears a superficial resemblance to Mr. Coppola's own father, Carmine Coppola, the first flute of Alfredo Toscanini's NBC Orchestra, and a composer for several of Mr. Coppola's film projects. In interviews, Mr. Coppola has insisted that his father has always been a supportive presence in his life, and that therefore there is no resemblance between his own benign father and Mr. Brandauer's coldly, cruelly manipulative Carlo. Still, one may be left to wonder from what source Tetro's and Mr. Coppola's overpowering rage toward a father figure originated. Of course, Mr. Gallo's Tetro delivers much of the actor's own ever-sour expressions of disgust over a world of unexplained grievances. Mr. Gallo's own films, Buffalo 66 (1998) and The Brown Bunny (2004), the latter having scandalized Cannes with its notorious fellatio sequence with Chloë Sevigny, project enough angst on their own to supplement Mr. Coppola's.
Still, despite all its longueurs and extreme aggravations, Tetro deserves to be seen as the late work of one of the cinema's most accomplished masters of mise-en-scène.