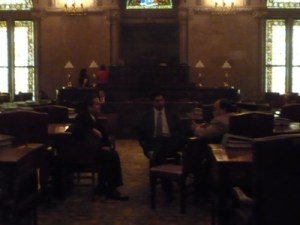 ALBANY—Once again, the Democrats are squatting in the State Senate chamber.
Here's a photo of Senator Martin Malave Dilan sitting in the majority leader's chair and Senator David Valesky occupying the dais. Democrats have been there in shifts since 5 a.m.
Yesterday, Justice Joseph Teresi ordered senators to come to session at 10 a.m.—all 62 of them. Democrats had put an operating agreement on the table that would allow for a floor leader and president of opposite parties rotating every hour, with Republicans getting the first hour.
This move seems to tamp down the earlier promise.
Republicans said they have filed a notice of appeal, which under the Public Officers law grants them an automatic stay from Teresi's decision. I saw Republican senators milling in their office suite. They said yesterday they would not enter the chamber.
Mark Hansen, a spokesman for the Senate Republicans, said attorneys are formally appearing before Judge Bud Mallone in Appellate.