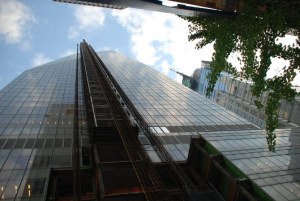 Settle down, everyone.
One Bryant Park's $1.275 billion financing, as well as the marketing of the St. Regis New York retail condos and a 49 percent stake at 299 Park Avenue, do not mean, contrary to some cautiously ebullient speculation, that the New York commercial real estate market is turning.
It's not even pivoting.
The deal and marketing pushes—news of which emerged in the last few days—involve particular circumstances, for better or worse, not germane to the rest of the market.
For now and probably for the rest of 2009, the commercial market faces a dearth of financing options that will surely lead to notable mortgage defaults rather than to more good news.
The One Bryant Park financing involves two well-capitalized landlords, Bank of America and the Durst Organization. Bank of America, the tower's anchor tenant and part-owner, is one of five banks behind the financing. Also, One Bryant Park is nearly fully leased—for some of the highest rents in the history of American commercial real estate.
At 299 Park, it's UBS looking to sell its 49 percent stake, according to the Post's Steve Cuozzo (the Fishers have the rest). But the tower's fully leased for another nine years, meaning any new owners would have to expend considerable energies—and/or patience—in emptying tenants in order to charge higher rents.
Finally, the St. Regis retail condos are not only fully occupied, they happen to rest in the center of the city's most expensive retail strip, Fifth Avenue between 49th and 59th streets.
In the end, it's not the one-offs that will be signs of the commercial market's turnaround. It's long-term trends in rents and in other areas, like tenant incentives and lease renewals by leading office-using industries. When a law firm or a bank renews in a midtown trophy for above the submarket's average asking rent, with no incentives like months' free rent, then we'll know a turnaround is nigh. For now, though, there are no such signs.
Take your pick of market parts: The Observer's Dana Rubinstein last week revealed unreleased Jones Lang LaSalle stats on Manhattan's topmost office towers. Rents in downtown trophies are off 7 percent since the spring of 2008; in midtown, 24 percent; and the average rents for these midtown towers could descend to the low $70s per foot by 2010.
It's bad out there, folks. Intermittent good news for a relative handful of well-endowed landlords who planned smartly and got a little lucky is just that.
And a quick aside: The wider U.S. economy—and ours locally—will not improve until the housing market bottoms out. Later this week, second-quarter Manhattan housing market reports are due from leading firms like Douglas Elliman and Corcoran. They are expected to show further titanic drops in sales and sharp jumps in unsold inventory. Happy Fourth.
tacitelli@observer.com