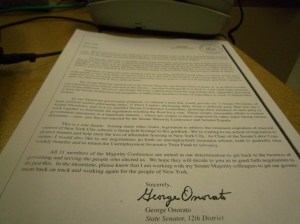 Here's another letter sent out from a state senator to constituents attempting to explain the embarrassing state of affairs in the Senate. This one is from George Onorato, a Democrat from Astoria.
From the letter:
On Monday, June 8th, as the State Senate began an historic end-of-session push to bring true reform to state government and act upon a variety of vital policy issues affecting all of us, the Senate Minority Conference attempted, what I believe is, an illegal change in leadership which has thrown the Senate into complete deadlock.

[skip]

The Senate Majority reached out to the senate Minority and Senator Pedro Espada, Jr. in an effort to establish a bipartisan government structure in the interim- on that would get all of us back to work while legal questions were being addressed. However, the Senate Minority walked away from the negotiating table, apparently preferring to keep the Senate deadlocked and incapable of addressing legislative issues of importance to some 19 million New Yorkers.
The letter goes on to talk about renewing mayoral control, and insurance reform for the unemployed. It does not mention same-sex marriage, which the governor wants the Senate to pass, but Onorato, among a few others, does not publicly support.