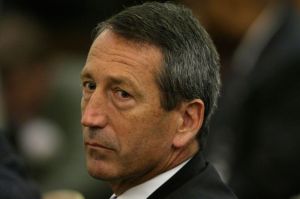 Before his little problem came up recently, South Carolina governor Mark Sanford had a book scheduled for publication from Penguin's conservative Sentinel imprint in March of next year. He still might! As first reported this morning by Michael Cader of Publishers Lunch, Sentinel publisher Adrian Zackheim is trying to figure out what to do with Within Our Means, "a manifesto about fiscal conservatism–why the government needs to spend less and fix the deficit ASAP," now that Mr. Sanford is no longer the rising star he was two weeks ago.
We checked in with Sentinel associate publisher Will Weisser this afternoon, and he said a decision was likely to be reached next week, after Mr. Zackheim returns from a vacation in England.
"Adrian has checked in but we haven't made any decisions," Mr. Weisser said. "Obviously, there's a lot to think about. We need to talk to the governor and his people. It's just such an unusual situation. You don't want to rush into any decision."
Unfortunately, Sentinel has already shipped the proofs for its spring catalog to the printers, and Mr. Sanford's book—which was to be one of the conservative imprint's lead titles for the season—is in there front and center. One supposes it will be serve as a charming collector's item, if nothing else.