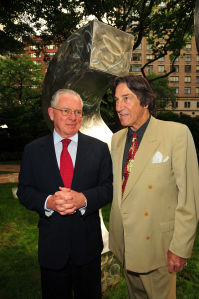 "I'm an aesthete," developer Jerry O'Connor said Tuesday night at his gargantuan Manhattan House, talking to a medium-sized crowd that was sipping cocktails and taking bites of pink and white dumplings. They were there in the building's hefty garden to unveil two new Hans van de Bovenkamp sculptures, Trinity and Red Gateway, and to celebrate some of the hugely troubled building's newly finished amenity spaces.
"I'm also an economic man," Mr. O'Connor, in a nice blue suit and red tie, continued. "This building has had—New York has had—an up-and-down year." (Among other things, mega-broker Dolly Lenz was cut from the Manhattan House in January, when only a quarter of the building's 583 apartments had sold.) "Anybody watch Jim Cramer tonight? Jim said June 16 was the low point of the housing market! It's over!" Mr. O'Connor said. There was some scattered clapping. "The bottom is here. We're expectant that 2009 is getting stronger and 2010 will be better." He has a lot riding on it: Manhattan House is the largest condo conversion in the city's history.
"I'm an optimist. What else are you going to be?" Mr. O'Connor asked. "That's what Churchill used to say."
It's not clear if sales have picked up yet, especially considering that the listings Web site StreetEasy shows only three apartments in contract. But after Mr. O'Connor's speech, up in a new amenities space that's called the Manhattan Club, his colleague Brian Fallon said that StreetEasy's number was "an understatement," and that Manhattan House has sold $200 million of real estate since October, though he wouldn't elaborate.
The upstairs club also has terraces with massive city views, plus two TVs: "CNBC is on, and if you don't want to watch that, you can watch a soap," Mr. O'Connor had offered during his speech. A few feet away, at the far end of the garden, stood a three-man band (clarinet, keyboard, bass) softly playing jazz standards. During "What a Wonderful World," the mustachioed bassist yawned.
mabelson@observer.com