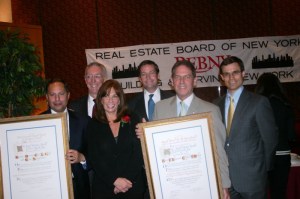 Cushman's Bruce Mosler on the Freedom Tower.
A tour of Jane Jacobs' old Hudson Street house now on the market.
Ratner to get shovels moving again at Atlantic Yards.
Brooklyn's priciest apartment ready for its flip.
Construction spending in New York reaches record in '08, likely a peak.
Young Woo is the buyer of AIG's downtown towers.
Law firm Sonnenschein Nath & Rosenthal wants 250,000 square feet in Manhattan.
Deutsche Bank building demolition cost rises by $20 million.
The Great Macklowe Sellof Ends! A rundown of who got what.
Asian investors circle Manhattan's commercial real estate.
City Council overwhelmingly approves Walentases' Dock Street project.
Retail brokers put up brave front at annual REBNY awards.
A condo party/charity auction channels Jes Wade, Peter Rabbit.
Bizarro battle! Wanting to build bigger, taller in Williamsburg.
New feature! Unreal Estate: 14 windows facing the sunrise at River House.
City unveils new developer carrots for suspended projects.
ESDC Chairman Bob Wilmers quits. What does it actually mean?
Bloomberg wants at least four more days to fix the World Trade Center mess.
Luxury Manhattan rents creeping back up.
New feature! Cold Case: New York's oldest residential listings. First up: 870 Park.
Price for tables at High Line benefit next week? As much as $100K.
Contact The Observer's real estate desk through editor Tom Acitelli at tacitelli@observer.com or AIM: tjacitelli. Follow our coverage on Twitter at NYOLocation.