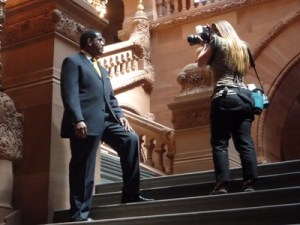 ALBANY—State Senator Kevin Parker, an indicted Brooklyn Democrat who this morning was quoted saying he didn't believe David Paterson would be elected in 2010, just told reporters Paterson is a "coke snorting, staff-banging governor."
"If he wants to be somebody that brings us together, let him do that," Parker said.
Several Democrats have been attacking the governor as part of the ongoing leadership struggle in the State Senate, but to my ear this is a new level entirely.
UPDATE: Parker told Liz he stood by the comments, but drew a joint rebuke from State Senators John Sampson and Malcolm Smith.
In a statement, they said "obviously this is an extraordinary situation and tempers are flaring, but we must maintain a level of civility and decorum befitting a Senator and representative of the people of New York."
At 11:58 p.m., Parker issued this apology:
"Unlike others who have been less than forthcoming, when Governor Paterson assumed office, he made personal revelations about activities in his past.

Many times people have thrown these admissions back in the Governor's face to gain political advantage. Today I became one of them.

Governor Paterson's statements a year ago were voluntary in order to promote transparency and full disclosure.

My conduct today was reprehensible and regrettable. I apologize to the Governor and the First Lady and I am profoundly sorry for any pain and suffering that I may have caused the Governor's family."
 UPDATE: Paterson was asked for a response to Parker's comments at a press conference on Friday.
"I am not going to be overreacting to defamation. I am not going to be intimidated by personal attacks. My job is to serve the people of the State of New York," Paterson said. "They've only directed this at me to distract you from the fact that they're not in the chamber or out of the chamber working on this problem."