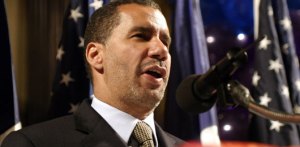 In case there was any doubt, New York State will not be saved by privatization.
Governor Paterson on Monday released the findings of his New York State Commission on Asset Maximization, an 86-page document that calls for a series of privatization measures designed to save the state money and improve its infrastructure.
What the report did not do was call for anything likely to provoke a high-profile firestorm of opposition and attack, but rather its recommendations seemed politically cautious, at least when compared with other public-private partnerships and new revenue strategies attempted around the country in recent years. (For instance, Delaware is legalizing sports gambling, Chicago tried a $2.5 billion deal to privatize its Midway airport; the governor of Pennsylvania has been trying to lease out the state's turnpike).
A few of the recommendations:
-Allowing SUNY to parcel off pieces of its campuses for long-term leases with developers. There's a lot of land on SUNY campuses (20,000 acres), but the state school system is not allowed to engage in long-term leases.
-A public private partnership for the long-term maintenance and repair of the Robert Moses-built Gowanus Expressway (I-278), perhaps including a few toll lanes for those who want to pay for a less congested trip, or tolls for all vehicles.
-Develop off-shore wind farms (perhaps on Lake Erie and off Long Island) and other renewable energy production on state-owned land
-The M.T.A. should consider partnering with private developers to improve stations and promote transit-oriented development, likely on commuter rail lines where dense development can cluster around stations
More broadly, the report calls for a more systematic approach to public-private partnerships, suggesting the state create a board that could standardize the process and empower agencies to engage in certain privatization measures.
There was no cost estimate given to how much the recommendations could save, or how much new investment they could leverage. It's safe to assume it would be a lot, but whatever amount it is would only put a small dent in the tens of billions the state is projected to need in the coming years.
ebrown@observer.com